We can build up a big picture of everyday life in Arborfield and Newland through the 19th Century from Census data. From 1841, Census returns have been kept and are available in microfiche or microfilm format from Local Studies Libraries and the Berkshire Record Office.
The Census returns for Arborfield are easy to find; however, those for Newland are buried among those for Hurst, while the few addresses for the detached portion of Wokingham are like a needle in a haystack. This little 'peculiar' of Wokingham was bounded by an elongated triangle between what are now Ellis Hill Farm, the Junior School and the cottages on the corner of School Road and Coles Lane
Arborfield Local History Society has extracted the data from every Census from 1841 to 1901 inclusive, and has indexed it for easy access, along with other data such as Parish Registers, Banns of Marriage, 1929 - 1975, Terriers for the Tithe Apportionment Map, a transcript of twelve Electoral Rolls from 1871 to 1960 (more years can be seen on microfiche at Berkshire Record Office), and more.
A CD is available for only £6 including postage in the U.K.
Click here to send an e-mail requesting a copy of the CD.
NOTE:
All of the files are displayed as web pages, so you don't need any special software to read them. However, the files are also included in Excel spreadsheet format. If you don't have Excel, you can download an 'Excel Viewer' for free from Microsoft, or you can obtain the 'Open Office' software available from the Internet.
You will find very useful the Master Census Index covering all 60 years - that's at least two generations of the same family - and Surname Indexes for Baptisms (including the Dissenters' Baptisms), Marriages and Burials.
The Census data show that the population varied only slightly from the mid 500's to a peak of around 670 in 1871, declining to the mid 500's by 1901. On the other hand, its composition changed markedly over time, as these two charts illustrate. The first shows that an increasing proportion moved from further afield as transport got easier:
The second shows that the pattern of employment shifted towards domestic service by 1901. Things have changed much since then!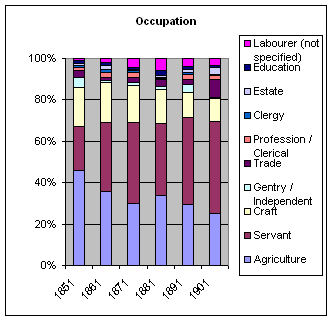 Buy your copy now... click to send an e-mail request.
Recent Census Data
Since 1945, Berkshire's population has grown explosively, and so has the number of dwellings, particularly in Earley, Woodley, Wokingham and Winnersh. Click here for details on how the district has grown. Arborfield bucked the trend in 1971 and 1981, because Poperinghe Barracks was being demolished and the young soldiers were being re-housed in Rowcroft Barracks, in Barkham. Arborfield's loss became Barkham's gain!
The 1991 Census gave a lot of detail which can be viewed at the Berkshire Record Office, but here is a brief summary:
| | | |
| --- | --- | --- |
| Under 5 | 226 | 10% |
| 1 - 16 | 419 | 19% |
| 17 - 24 | 226 | 10% |
| 25 - 40 | 637 | 28% |
| 41 - 64 | 550 | 24% |
| 65+ | 189 | 8% |
| | | |
| Total | 2,247 | |

In 1991, there were some 750 households - about 3 persons per household. At the time, it was the least densely populated parish in the District at 2 persons per hectare. By contrast, in Loddon Ward (part of Woodley) there were almost 34 persons per hectare.
In 2001 the Arborfield population didn't increase much, but 2011 will give a very different story, because the Penrose Park estate, Gerring Close and the Poppyfields estate were completed. In addition, partially-empty military houses in Valon Road and in Barkham Parish were sold off, and found many ready buyers.