Families

Related sites:
Court case involving serving drink to convalescent soldiers in WWI
Thanks to Diane Maltby, Richard Allen and Alice Barbara Allen, we are now getting a glimpse of life in the 'Swan' in the early years of the 20th Century.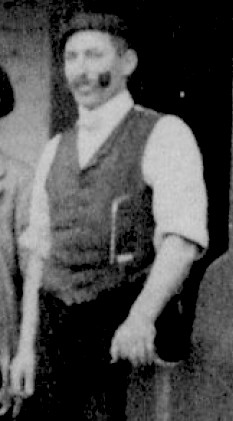 William Clark was landlord of the 'Swan' from around 1904 until his death in October 1925. He's buried in the churchyard in Arborfield. His widow Betsy lived in Shinfield for another quarter century, and is buried there.
Diane tells us that William was baptised on 26th July 1868 at Louth, Lincolnshire, the son of James and Sarah Clark. His father was described as a carrier and waggoner, so it was likely that William was around horses from an early age. The family ended up in Withern, near the east coast, before the 1881 census.
At some time before his marriage in 1891 he joined the Army. On 29th June 1891 he married Withern girl Betsy Carrott at Baildon, Yorks, when he held the rank of sergeant in the 6th Dragoon Guards and was based at Leeds. When Diane's grandfather Fred was born in York, 1902, William was a Farrier Major. He must have been posted regularly, because other children were born in Edinburgh, Preston and Aldershot.
There were at least 9 children, including William, Tom (who married a lady called May and lived locally), Nellie (who married Bert Dicker and also lived locally), Fred, Edwin Guy in 1905, Jack in 1907, Thomas Victor in 1910, and Clifford James (still living in Arborfield in 1950, according to the Electoral Register).
William junior was born about 1893 in Edinburgh. He married to Alice, and had two daughters. The family referred to him as 'the Colonel'. There's a photo of William Clark junior in uniform as 'Sergeant W. Clark, Royal Engineers, The Swan Inn, Arborfield Cross. - Mentioned in dispatches'. We've found his daughters Alice Barbara, baptised at Arborfield on 4th August 1918 when William was 'C.Q.M.S. Royal Engineers', and Pamela, baptised at Arborfield on 17th September 1922 even though the family then lived at The Cattle Market, Deptford where he was a Sarjeant R.C.O.S.
Diane's grandfather Fred Clark married Elsie Whittaker and lived at Shinfield, Wokingham and Spencer's Wood. Fred used to say that his father was a very strict man, who had a horse whip at the dining table with which the children were threatened, at least, should they misbehave at mealtimes!
Some wonderfully clear photographs show the 'Swan' in 1904: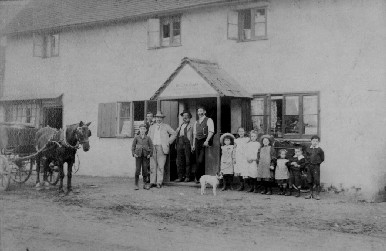 and again in 1914: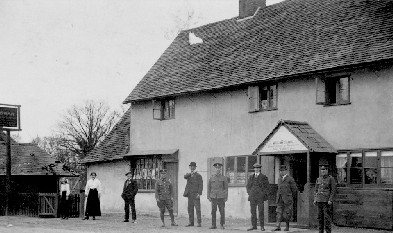 plus a picnic in the meadow behind the 'Bramshill Hunt'.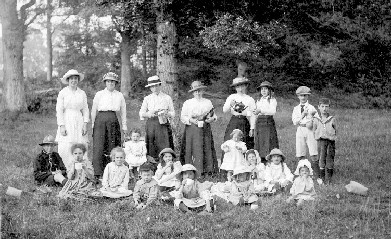 Click on the images to see them in more detail, and identify the people.
We have a pen picture of William Clark from Guy Bentley: 'the Swan Inn, Landlord Mr William Clark, a retired sergeant major and a very strict man who has retained his military bearing and discipline at all times. He has a very large garden, keeping several pigs in a big sty in the garden, and in the yard at the side of the inn there is stabling for several horses and also a large coach house. Mr Clark has no horses but the buildings are used to house poultry - hens, ducks and geese.'