Wounded Soldiers and Public Houses
These articles reveal the authorities' attitudes concerning the sale of alcohol to wounded soldiers. There were several similar cases during the war. This was from 7th April 1917:
ARBORFIELD LICENSEE SUMMONED
---
SOLDIER PATIENTS & THEIR ARMLETS
---
Mrs. Betsy Clarke, the wife of the licensee of The Swan Inn, Arborfield, was summoned at the Wokingham County Bench on Tuesday [April 3rd 1917] for supplying intoxicants to members of His Majesty's Forces whilst undergoing hospital treatment, on the 25th March.
Mr. E. T. Hatt, of Reading, defended. The defendant pleaded not guilty.
P. C. Prior stated that he found three Canadian soldiers at 10:30 p.m. on the night in question near a barn about 250 yards from The Swan Inn. Two of th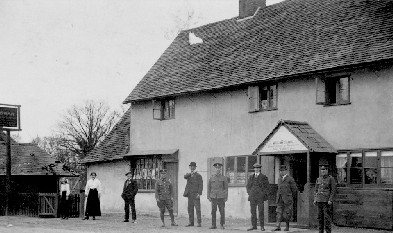 em were drunk, and the other had been drinking. Two of the men were in blue uniform with khaki overcoats on, and the other was in khaki uniform. One man had to be taken to Bear Wood Hospital in an ambulance. On March 27th he told the defendant she would be reported for allowing hospital patients to have drink and get drunk on her premises. She said she was sorry it happened – that she had been wanting to get out of the house and was afraid something would happen.
Cross-examined by Mr. Hatt: The soldiers would have to pass The Bull Inn on their way home. They were found about 320 yards from there. He heard the men had been fighting. The man in khaki and one of the men in blue walked off together. He considered they were drunk because they smelt of liquor and vomited. One was helpless. He visited The Swan on the following day with one of the soldiers, who was unable to say whether or not that was the house he visited on the previous evening, although he was sure he was not at The Bull or Bramshill Hunt.
Private Pascoe, of the Canadian A.M.C., on the staff at Bear Wood, stated that he went to The Swan with Private Parker (another staff man) just after 8 o'clock on the evening in question, and saw Private Crowe-Swords, a patient, there. He had full khaki dress on.
Cross-examined by Mr. Hatt: There was nothing to show that this man was a patient, and he (Pascoe) did not know it himself at that time.
Private Walter Parker (another staff man) corroborated the last witness's statement, and added that he saw Crowe-Swords brought in on an ambulance to the hospital on the same evening.
Cross-examined by Mr. Hatt: The witness agreed that Crowe-Swords had full khaki dress on.
By the Chairman: He had no armlet on.
Robert Crowe-Swords said he was a patient at Bear Wood Hospital. He went to a public-house at Arborfield on the 25th March, but could not say whether he visited more than one. He was wearing a khaki greatcoat, puttees and cap. His blue uniform did not show. He had brandy to drink. He did not remember leaving the house, and could not say who served him.
Cross-examined by Mr. Hatt: He had no armlet on. He heard there was a fight, but he did not remember it; in fact, he remembered very little. If the defendant had asked him whether he was a member of the staff he would certainly have said "Yes", as he always, when asked by publicans, told them this, otherwise he would not be able to get a drink. He was not sure whether it was brandy or been he had to drink.
Private Noble (another patient) said he was in company with the last witness at a public-house in Arborfield on the evening in question, but he could not say the name of the house. He could not recognise the defendant as being the person who served him, but he had brandy to drink. He was not sober.
Mr. Hatt stated that his client had no brandy in the house at the time.
Supt. Goddard complained that the version given by the last witness was different to a statement which he had made to the Officer in Command at Bear Wood, and asked for an adjournment in order that he might call further evidence.
Mr. Hatt opposed this, pointing out that his client had been put to a lot of expense, and that the police had ample time to prepare their case.
The Bench declined to adjourn the case.
Mr. Hatt submitted that there was no evidence against Mrs. Clarke of supplying the men in question with intoxicating liquor, and contended that he had no case to answer.
The Chairman agreed, and the case was accordingly dismissed.
Mr. Hatt said that he considered there was very bad management on the part of the hospital authorities in not seeing that the men's armlets were properly secured, so as not to be removed without detection. These difficulties did not happen in the Reading and Oxford districts, and in other hospitals in the districts around. It made the position of a publican a very difficult one indeed.
The Chairman thought it would be difficult to prevent the men from removing their armlets.


(Comment)
It seems that the Canadian soldiers were kept at the hospital until they were fully fit, which meant that patients tended to go out for a drink, because in their eyes, they were no longer unfit to do so. Unfortunately, there was a law against publicans serving hospital patients, and it seems to have been enforced by periodic clamp-downs. On Tuesday 15th February 1917. the paper reported in summary that Wokingham Police Court dealt with licensees from The Redan, Red Lion and the Ship in Wokingham town centre, plus the Walter Arms in Bearwood. Previous to that, another case was reported in detail from Tuesday 29th August, when the licensee of the 'Welcome Inn' was prosecuted for serving Canadian patients from the 'Bear Wood Convalescent Hospital'.
WOKINGHAM BOROUGH BENCH
---
Serving Wounded Soldiers
(Tuesday August 29th 1917)
Albert Victor Butler, of The Welcome Inn, Wokingham, was summoned for supplying intoxicating liquor to members of H.M. Forces undergoing hospital treatment, on August 18th.
Major Gale, of Aldershot, representing the military authorities, and Major Woodehouse, Commandant of the Bear Wood Military Convalescent Hospital, was also present.
Sergeant J H Rogers of the Canadian Military Police, Bear Wood, stated that on August 18th, while on duty, he visited The Welcome at 8:50 p.m. In the back room he saw two patients in hospital uniform. One had half a pint of beer in his hand, the other was just placing a half-pint glass on the table. Witness smelt the glass and should say it had contained beer. Private Leonard had the empty glass. Witness saw defendant soon afterwards. He said he did not serve the men. They had no business with the beer, and he did not know how they got it. Later, he admitted serving the men, and said it was the first time. He told witness he would do anything for him rather than he should report it. The second patient was Sergeant Matthews.
Corporal Colin Bray, C.M.P., corroborated. Beside the beer, each soldier had a glass of transparent liquor. Witness heard defendant say to the sergeant he would do almost anything for him if he would not report it.
Private H.J. Gilham, C.M.P., corroborated. As witness entered, Matthews was drinking the beer. In front of Leonard was a beer glass. Witness heard defendant say he would do almost anything for the sergeant rather than that he should report the matter.
Sergeant A. Matthews, sworn, said he called for lemonade. He remarked what a pity it was they could not get something stronger. He saw a glass of beer on the table, but did not see how it came there. It was about six inches from his glass. He saw one also in front of Rogers.
Supt. Goddard stated that the defendant said the glass of beer was his own. He stood it on the table near the sergeant, and was called away into the bar. No one had any business wit it. Witness said "Well, they didn't fetch it up out of the cellar, and we have heard of a second glass", to which defendant made no answer. Defendant denied trying to bribe the sergeant, and said he only told him he was sorry.
Defendant was sworn, and, giving evidence on his own behalf, declared that it was his beer and the soldiers had no business to touch it it. He drew it for himself. He took it in and put it on the table, for himself, not for the soldiers to drink.
Major Woodehouse, with the consent of the Bench, gave details of the ill-effects of drink upon the convalescents, causing their wounds to reopen, and sometimes leading to reaction, resulting in death.
Butler was fined £5, the chairman telling him that he should consider the wounded soldiers; also those of his own class, the publicans of the town, who, if the town were put out of bounds by the military authorities, would suffer great loss.