"The Bull" inn on the Swallowfield Road is a Grade 11 listed building which is thought to date from the early 17th century.
We learn from an old deed that it was most certainly there in 1707, and there is also a mention in the Church Rate book of 1750 - "The Bull Alehouse rated at 4d. to Mr. May".
We have recently been given an image of what seems to be a Victorian oil-painting of "The Bull". The owner, Peter Ledgerton, has kindly given us permission to publish the image. Click on the painting to see more detail.
In 1839 The Bull Inn was owned by Messrs. Willats Blandy and the land alongside (known as The Orchard), now the copse, by Messrs. J. & C. Simonds who also occupied it.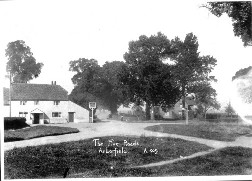 In 1922, "The Arborfield & Newland Women's Institute Book on History, Stories & Customs of the Parish of Arborfield and Liberty of Newland" has the following to say:
"This inn (The Bull) is celebrated as being one of the places where Queen Victoria stopped to bait her horses, as she drove from Windsor to Stratfield Saye to pay a visit to the Duke of Wellington. Outside the Inn, and across the road, a triumphal arch was built to welcome her. Mrs. Stone told how Sir John Conroy of Arborfield House threatened instant dismissal to any of his employees if they went to the village to see Her Majesty go through. But old John Stone, he did not mind what Sir John said, but put on his best clothes and went. No notice was taken and he remained in the service of the Conroy's and Hargreaves till he died well over 80."
There is an engraving from "The Illustrated London News," 25 January 1845 at Reading Local Studies Library showing this event. It is captioned "Changing the escort at Arborfield", on Queen Victoria's journey from Windsor to Stratfield Saye on 20th January 1845; the royal carriage is about to pass under an arch carrying the words "honesty" and "industry" and a crown emblem. To the right of the picture, people wave and raise their hats. Click here to see it.
This land is named in the Newlands Estate Sale Documents of 1947 as being for sale by The Simonds Family. It was at the time let to Mr. Bushell, presumably "Jugger", on a yearly tenancy of £2.10s.0d., although it is believed that his daughter, Lilian Hall ran the pub during the war, he was clearly still connected with it in 1947. He died in 1950.
In September 1948 the copse alongside The Bull was sold by John Silvester Gardner to H & G Simonds Limited.
"The Bull" public house has had various owners including H. G. Simonds Brewery, Courage, Barclay and Simonds, and later Courage Brewery. In 1999 a transfer of The Bull was made between Inntrepreneur Pub Company Limited and Unique Pub Properties Limited, and the pub was rebuilt in 2007 by Enterprise Inns plc.
Here's a view of the Bull taken in 1972: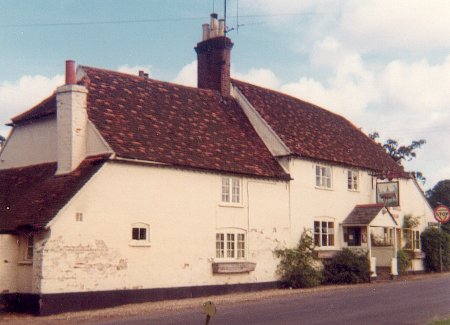 Sadly, the stable building alongside it on the Swallowfield Road had deteriorated badly by 2004, when it was partly blown down in a gale, as shown below. It was declared unsafe and was demolished by Wokingham District Council, with a promise from the owners that it would later be rebuilt. Happily, that did happen. As of 2007, the pub has been renovated and a restaurant has been added. Click here to see the rebuilding in progress.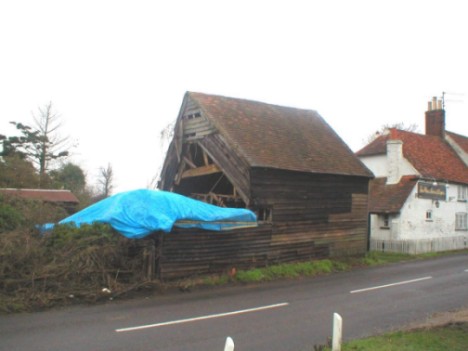 Landlords
The following were occupants of The Bull at Arborfield according to Snares, Billings, Kellys, Dutton Allens or Harrods Post Office Directories, 1842 - 1939:

1842-3 Richard Wortley
c 1847 Richard Wortley
1854 Thomas Tubb, Victualler, French Polisher
1863 Mrs. Jane Matthews
1869 Miss Ann Matthews
1876 W. Windebank, Victualler
1883 William Windebank
1887 Charles Malins
1891 John Tayler
1895 Miss Ann Radborn (also 1899, 1903, 1907)
1911 William Rayner
1915 Joseph Bushell (known locally as Jugger) (also 1920, 1924, 1928, 1931, 1935, 1939)
It appears that William Ludlow was the landlord of the 'Bull' at the time of the Quarter Sessions of 5th September 1815 (Note: a 'William Ludler' of Arborfield married Elizabeth Nash of Hurst on 14th July 1790).





Anthony Walton, a local journalist, described his favourite pub the 'Bull' in 1975. Click on the link for a series of 'Country Cameo' articles from 1965 to 1975, written by Anthony Walton under the name 'Rustic'.