The Cross has become the symbol for the village both because its long association with the Army and because it is placed at the point on the map known for many centuries as 'Arborfield Cross'. By the 1500's there was a cluster of buildings around the junction, but until well into the 20th Century the village was a backwater.
The main road through Arborfield connects Reading with Farnborough, and the village's military connections have meant that it has seen more than its fair share of heavy vehicles. The junction has not been able to cope with rush-hour traffic for many years, since around a quarter of vehicles heading north through the village was heading for Winnersh and the eastbound M4, which has caused congestion and many minor accidents at the junction.
This aerial photo was taken on a Saturday in 1985 when the junction was clear; note that there was no mini-roundabout at this stage. The Reading Road comes in from the left to meet the B3030 Sindlesham Road at the top, and the Swallowfield Road at the bottom. On the right is School Road, while the lower right shows Eversley Road, once simply known as 'Arborfield Street'. A sixth arm, not visible here, is Cole or Coles Lane, which was the old cart track leading directly to Wokingham and still a pleasant byway.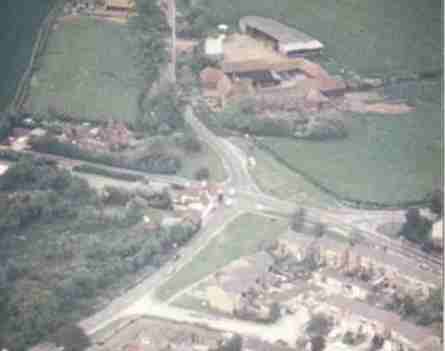 By the early 1990s, the mini-roundabout had appeared, and the surface was beginning to suffer badly from wear. The foundations of the road were relaid to a deeper level, though the general shape was retained. The Eversley Road was quiet for three months.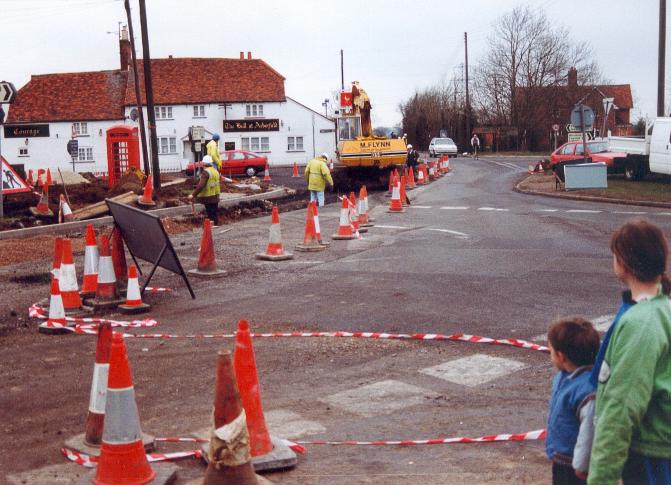 In 1995 a 24-hour video survey was undertaken to see exactly where the traffic was heading through the junction. Over 20,000 movements were counted, and one in five vehicles outside the rush hours was a lorry, thanks to major gravel workings in the area. This evidence formed the case for a single large roundabout whenever funding could be justified.
Planning permission for the Penrose Park development was granted on appeal subject to a contribution to the cost of a new junction. Some land was purchased on the east side to make a better shape, and work began at the beginning of 2004 to move the utilities such as telephone cables, and water and gas mains. The main work started in mid-March and traffic restrictions lasted on and off until September, with four-phase traffic lights. School Road was blocked at its entrance to the junction. Here are some views of the roadworks as they proceeded.
March 14th
April 4th
May 9th
June 12th
August 1st

The Eversley Road arm needed to be widened to give heavy lorries the chance to manoeuvre safely when heading southwards.
October 9th
November 1st and 13th