Auctions

Related sites:
The Furniture Auction at Arborfield Court
9th September 1916' edition advertised the sale of furnishings at Arborfield Court: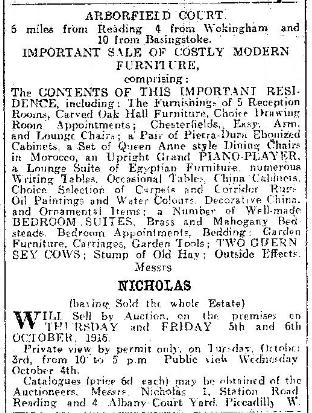 ARBORFIELD COURT
6 miles from Reading, 4 miles from Wokingham, and 10 from Basingstoke.

IMPORTANT SALE OF COSTLY MODERN FURNITURE,
comprising
The CONTENTS OF THIS IMPORTANT RESIDENCE, including:
The Furnishings of 5 Reception Rooms,
Carved Oak Hall Furniture,
Choice Drawing Room Appointments: Chesterfields, Easy, Arm, and Lounge Chairs;
a Pair of Pietra-Dura Ebonized Cabinets,
Set of Queen Anne style Dining Chairs in Morocco,
an upright Grand PIANO-PLAYER,
a Lounge Suite of Egyptian furniture,
numerous Writing Tables, Occasional Tables, China Cabinets,
Choice Selection of Carpets and Corridor Rugs,
Oil Painting and Water Colours,
Decorative China, and Ornamental Items;
A Number of Well-made BEDROOM SUITES,
Brass and Mahogany Bedsteads,
Bedroom Appointments,
Bedding,
Garden Furniture,
Carriages,
Garden Tools,
TWO GUERNSEY COWS;
Stump of Old Hay;
Outside Effects.

Messrs. NICHOLAS
(having Sold the whole Estate)
Will Sell by Auction, on the premises, on THURSDAY and FRIDAY, 5th and 6th OCTOBER, 1916.

Private view by permit only, on Tuesday, October 3rd, from 10 to 5 p.m. Public view Wednesday, October 4th.

Catalogues (price 6d. each) may be obtained of the Auctioneers, Messrs. Nicholas, 1, Station Road, Reading, and 4, Albany Court Yard, Piccadilly, W.

In the same paper, under the heading 'ARBORFIELD':
Messrs. Nicholas have just sold "Arborfield Court", a well-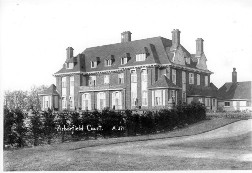 known country seat, comprising:
Mrs. Bruce had sold the property to Mr. and Mrs. Prescott, who were soon getting involved in village life. All three were at the funeral of Mrs. Hargreaves in 1917.