The Local History Recording Scheme was an attempt to record Berkshire history, parish by parish; it flourished during the 1920's and 1930's, but by the 1960's enthusiasm waned. It was brought to Arborfield Local History Society's attention through a series of references in local newspapers after the end of World War II. The Reading Standard of 15th March 1946 mentioned that the County's War History was being pieced together. It reported that:

"Records are accumulating in the 'Local History Recording Scheme' – 652 approved records have been sent in, from 149 parishes. Correspondents were asked to collect without delay all possible information as to the effects of war on the different parishes in the county. Notes were required on such matters as the ploughing-up of grasslands, war service, the effects of enemy action, evacuation, billeting and the work of the various wartime organisations."

The Reading Standard reported further progress in its edition of March 28th 1947, under the heading 'Recording Local History - War Diary of a Village':

"Revived interest in local history recording was reported by Mr, C. B. Willcocks at the 23rd annual meeting of the Local History Recording Scheme held at Reading University on Saturday [March 22nd]." It reported that 155 parishes were involved. "The Committee stresses once again the importance of collecting in each parish all obtainable records of the effect of the war on the district. One village kept a day-to-day record throughout the war.."

Was there a War History record for Arborfield? Yes - it was completed as late as 1953.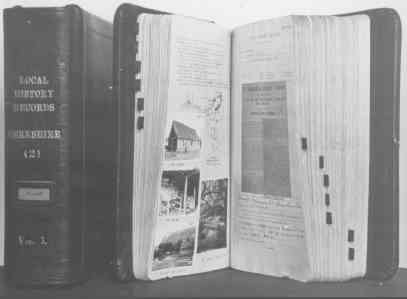 There are two copies of the Local History Recording Scheme available: the first is at the British Library, and the second is at the Local Studies Library, as shown here (photo: Reading Local Studies Library).
Both are loose-leaf binders in alphabetical order by parish. Arborfield is reference 'A-6' in Volume 1.
The Local Studies Library has a leaflet explaining the scheme, entitled "The Local History Recording Scheme. Notes on recording local history : by C.B. Willcocks, F.S.A.", published by the Berkshire Local History Committee in 1952.
Here are the contents for Arborfield, showing the complicated cross-reference recording system. Click on the links for each article:
PARISH OF: Arborfield REFERENCE NUMBER: A.6.
Also: PARISH OF: Barkham REFERENCE NUMBER: B.1.
With acknowledgements to Reading Local Studies Library