Memories

Related sites:
"Byways in Berkshire and the Cotswolds", by Peter Ditchfield, 1920
Full text of
Chapter 8: Wokingham to Miss Mitford's Country, via Arborfield
Chapter 9 of "Byways in Berkshire and the Cotswolds", part 1, by Rev. Peter Ditchfield, describes a journey that was routed via Arborfield.

IX - Swallowfield, Eversley and Kingsley's Country
SWALLOWFIELD is a very famous village, mainly on account of the story of the large house, the home of the Russells, which has played no small part in English history. It has an interesting church, built mainly by Sir John Le Despencer, lord of Swallowfield, in 1256, who petitioned the Pope, Alexander IV to allow him to do so, pleading the dangers which he and his family had to encounter in going through the forest to mass at Sonning, from robbers in summer and floods in winter. Two Papal bulls are still in existence sent from Anagni granting this petition.
The church has a grand timber belfry supported by massive beams, such as were not unusual in our Forest district when timber was plentiful. The porch is a modern imitation of fifteenth century construction, and there were two altars, one at the east end and the other in front of the screen as indicated by an ancient piscina. Under the west window is a stone coffin containing the remains of the founder.
Like many other churches in the middle of the last century this one was doomed to destruction. It had been so disfigured by lath and plaster, and its many beauties so hidden by tasteless restoration, that it seemed as if nothing could make it a worthy and reverent building. It was, however, saved by Charles Kingsley who detected its hidden merits and persuaded Sir Charles Russell to restore it rather than to pull it down.
The village takes its name from the bird which Lord Tennyson described as "Nature's licensed vagabond", the swallow, and appears in old documents as Swalfeld, Swalefeld, Solafel and other forms. The drive from the gatehouse next to the village leads across the Blackwater river over which one of the owners of the estate, Governor Pitt, erected a beautiful bridge with five arches. On the top of the parapet he placed a sundial with his initials "T. P. 1722."
Soon the house appears in view. It is a large quadrangular house and encloses an inner court which was formerly a complete cloister. Two sides of the quadrangle are much older than the rest of the house, the roof of these wings being screened with a parapet of baluster; one is surmounted by a belfry and the others by a clock-tower.
When Sir Henry Russell bought Swallowfield in 1820 many alterations were made and some distressing vandalism was perpetrated. But I must say something about the successive owners of tire place. Fuller quaintly observes that " the lands of Berkshire are very skittish, and often cast their riders, which yet I impute not so much to the unruliness of the Beasts as to the unskilfulness of the Riders. I desire heartily that hereafter the Berkshire gentry may be settled in their saddles, so that the sweet places in this county may not be subject to so many mutations." Swallowfield has certainly been no exception to this proverbial skittishness, and has had many owners from the time of Edward the Confessor to modern days. Those who would follow all these mutations cannot do better than to read Russell's admirable work on "Swallowfield and its owners".
Its fascinating pages record all that concerns the old house and the many families who have held it. I cannot do more than mention a few of the illustrious personages who have been connected with it, from the time of Sexi, the Huscarle of the Confessor King to Lady Russell and her son Sir Charles, who now holds it. Sexi and other Saxon thanes were loyal to King Harold, and were dispossessed at the Conquest, and Swallowfield was granted to the Conqueror's "dapifer" or steward, greatest friend and councillor, William Fitz Osbern. Amongst other owners have been the St. Johns of Stanton, the Despencers, Thomas de Colney.
The park was used by Edward III for the breeding of horses. A large stud was kept there and vast sums spent upon their upkeep. He gave as much as a sum equivalent to £2,000 at the present time for a grey horse named "Pomers", and "Bayard", a bright brown bay, cost him about half that amount. The Earl of Warwick held the manor in chief. It became the dowry of Tudor queens and many notable names are connected with its history. Edward VI sold it to Christopher Lytcott, and it became the property of the Backhouses, whose monument is in the church, and then of Viscount Cornbury, afterward second Earl of Clarendon. It used to be said that the Earl of Clarendon wrote in this house The History of the Great Rebellion, but this appears not to be true.
It was sold to Thomas Pitt, commonly called "Diamond" Pitt, or Governor Pitt, who made a great fortune in the East, and acquired the large diamond which will ever be associated with his name for £24,000. This possession caused no little anxiety and trouble. Lady Russell in her book tells the whole story of the stone. It was finally sold to the Duc d'Orleans for £125,000, receiving the name of "Regent", and after many vicissitudes is now in safe custody in the Louvre. I scarcely need mention the later owners of Swallowfield until it was acquired by Sir Henry Russell, Bart. He and his descendants have all been distinguished as soldiers or men of action, scholars and the friends of literary celebrities, members of parliament, etc.
The late Sir George was a man whom every one loved and admired. No one worked harder than he. He was a barrister, Member for East Berks, a Deputy Lieutenant for the county. Governor of Wellington College, Chairman of the South Eastern Railway Company, County Court Judge, and in spite of all his cares always the kind, genial, courteous friend whom we all admired. He married Constance, the daughter of the late Lord Arthur Lennox, She was the historian of Swallowfield, to whose work I have already acknowledged that I am indebted for all I know about her home.
The old house has many charming family pictures by great painters, and a large library of books, which contains many treasures for the bibliophile. Not the least curious object is the magic crystal of the famous necromancer, astrologer and charlatan, Dr. Dee; but the power of reading its mysteries is, I fear, lost.
A stroll through the village leads us to the hamlet of Riseley, and then on to Heckfield Common, one of the most beautiful in Northern Hants. It is beyond our borders, or I should like to describe the group of villages and interesting churches that lie in this district, Heckfield, Mattingley, Hartley Westpall and others.
A few words must be said of Stratfieldsaye which is on the Berkshire border, the home of the great Duke of Wellington, presented to him by the nation for his signal services. The house is a plain building of little architectural interest, but profoundly interesting for its associations with the Duke. Some portions may have been built in the sixteenth century, but it has received so many additions and alterations that it is difficult to trace any early construction.
In the time of Charles I the estate came into the possession of an ancestor of Lord Rivers, in whose family it remained until it was presented to the Duke. The house has many treasures. There are paintings of Marshall Schomberg, the hero of the Battle of the Boyne, Lord Wellington with his aide-de-camp, Lord Raglan, and their guides in their passage over the Pyrenees, of the Duke's triumphal entry into Madrid and other events in his military career; busts of famous men, such as the Emperor Alexander, the Duke of York, Sir Walter Scott, and of Massena, one of Napoleon's generals; a fine painting of the head of Copenhagen, the Duke's favourite charger, his accoutrements, etc., worn in his campaign.
Some of the relics of the old Roman city of Silchester are here, including one of the earliest mosaic pavements disinterred, forming the floor of the hall, and a bronze Roman eagle. There are portraits of great Spaniards, magnificently wrought keys of certain Spanish fortresses surrendered to the Duke, and almost everything in the house is an object of veneration to English people, telling of the mighty struggle of the nation a century ago. Outside in the park we notice the avenue of Cornish elms, a mile in length, recalling the lines of the poet Rogers:
These are the groves a grateful people gave
For noblest service: and from age to age
May they to such as come with listening ear
Relate the story.
After the battle of Waterloo some beech trees were planted in the park and styled the Waterloo beeches. A story current in our neighbourhood is told of them which, as far as I am aware, has never been recorded in print. A lady named Miss F. Landen, desiring to sketch these trees, wrote to the Duke requesting permission to see the Waterloo beeches, and signing herself F. Landen. Whether her writing was difficult to read or the Duke's eyesight not quite so strong as it was, he read "beeches" as "breeches", and "Landen" as "London", and exclaimed, "Whatever does the Bishop of London mean by wanting to see my Waterloo breeches? Really his Lordship must be getting a little soft in the head". However the breeches were sent to the Bishop who was vastly astonished and said, "Whatever does the Duke mean by sending me these things? Really he must be suffering from softening of the brain!"
Across the park stands the curious church built of brick by Lord Rivers in 1874 in the shape of a Greek cross, with a west portico, a central octagonal tower crowned by a slated cupola. Its chief interest lies in its many monuments. There are some early brasses to the memory of members of the Dabridgecourt family who held the estate in the sixteenth century, a memorial to a former rector, John Howsman, "who continued a paynfull Preacher by the space of forty-one years". Lest the reader should feel too much compassion for the inhabitants during so long a period, it may be stated that the word "painful preacher" were understood by our forefathers to mean a "painstaking" one. I regret that space does not permit us to record the rest of these monuments.
Over thirty years ago some friends of the writer rented for the summer the rectory of Stratfield Turgis, an adjoining village. They were anxious to discover some of the old people who personally remembered the great Duke. Their quest was vain, until one day an old man brought some eggs to the rectory. Here they thought was their opportunity. He was conducted into the drawing-room, and asked many questions. But our country people are very cautious folk, and do not like to be questioned by strangers. At length after many essays the old man volunteered the startling and novel information, "I'm told, ma'am, he were very good at war".
Before leaving this Berkshire border we must visit one village which has attained fame through the personal character and literary achievements of its rector, Charles Kingsley. That village is Eversley, which is easily approached from Stratfieldsaye by a road leading past the granite monument of the Duke, across Heckfield Heath, past the estate and mansion of Viscount Eversley, one of the most delightful drives or cycle rides imaginable.
Though more than forty years have flown since Charles Kingsley died, his memory is ever green. It is not difficult to discover the secret of his appeal to the affectionate regard of men of divers temperaments. Some disliked his type of churchmanship, and yet he won the friendship of Archbishop Benson. He was not an accurate historian or leading scientist; yet men derived inspiration and an enthusiastic love of lore and learning from his writings and opened the book of nature under his guidance, and found therein light and knowledge.
Many know him only by his romances — and how stirring they are! Who has not been moved by Westward Ho! and realized from a study of its pages the gallantry of the seadogs of Devon, their bravery, their sufferings and their triumphs? Some call Kingsley a socialistic dreamer, and dislike his Alton Locke and Two Years Ago, and yet they proclaim him as the stalwart succourer of the oppressed, the lover of humanity, the champion of unpopular causes. However antagonistic his opponents were to his opinions, yet they all loved the man. He had a genius for friendship, and none revered him more than his parishioners. Even now the old people tell their stories about him and his curious ways and manners.
Pilgrims still come to visit Kingsley's beloved village, Eversley, which lies just beyond our Berkshire border in Northern Hampshire, and we will follow in their footsteps. The best way is to hasten back to Arborfield Cross whence a road conveys us direct to Eversley Bridge, across the Blackwater river, and straight on to the vicarage and church. The latter is a curious structure quite unlike any other church. The chancel is the only ancient part; all the rest was rebuilt between 1724 and 1735, the tower being of the latter date. It was restored in 1863 and again in 1878 in memory of Charles Kingsley, who designed the paintings on the heavy classic chancel screen. In the church is a graceful modern effigy of Dame Marianne Cope, 1862, and a brass cross to the memory of Richard Pendilton, servant of Giles Dawbney, steward of Henry VII (1502). There are other memorials of the Cope family whose vault is beneath the chancel. In the dark south-west corner of the church is a tablet to the memory of John James who is described as the architect of St. Paul's Cathedral, London, Westminster Abbey, and fifty-four churches in the City of London. One wonders where Sir Christopher Wren comes in, in this mighty claim!
After viewing the church the pilgrim walks along the short narrow path that connects God's Acre with the rectory garden, and admires the giant cedar which was Kingsley's delight. This view is described by him in a letter written to his future wife:
"The view is beautiful. The ground slopes upwards from the windows to a sunk fence and road without banks or hedges, and then rises in the furze hill in the drawing, which hill is perfectly beautiful in light and shade and colour. Behind the acacia in the lawn you get the first glimpse of the fir forests and moor, of which five-sixths of my parish consists. Those delicious self-sown first".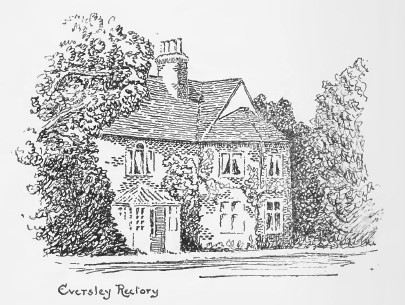 By the courtesy of the present rector you may be able to see the old study, wherein the famous writer wrote his romances, his sermons, and prepared his lectures. Under the last rector, Mr. Mosley, it was much more luxurious than it was in Kingsley's time, with books galore and comfortable chairs wherein it was pleasant to take one's ease. When I first saw it in the days of Kingsley's successor it was a bare room with a brick floor, but there was a high standing desk on which he wrote his inimitable stories on half sheets of note-paper, which when they had been covered with his close script, were scattered on the floor, and must have been with some difficulty sorted.
Kingsley's old leaden tobacco-box and some other little relics have been handed down to posterity. He was very fond of smoking, and we still seem to see his familiar form, attired in very un-parsonic dress, with his knickerbockers and rough jacket, without even the customary white tie, walking with springing step over the heather-clad common, and suddenly darting into a furze-bush to seek for a long clay pipe that he had carefully hidden there, in case the lust for tobacco-smoking should suddenly come upon him without the wherewithal to gratify it. He had sundry of these hiding holes in various parts of his parish, where a pipe and 'baccy awaited him whenever he felt the need to use them.
His eccentricities did but endear him to his many friends, and I could tell of many others. He had a passionate love for his "Winter Garden", that great stretch of country through which you can ride fifteen miles on end, wherein flourish great Scotch firs, bright hollies with their scarlet beads, furze patches rich with its lacework of interwoven light and shade, and the deep soft heather carpet, which invites you to lie down and dream for hours; and behind all the wall of fir-stems, and the dark fir-roof with its jagged edges a mile long against the soft grey sky.
He loved to ride through the fir-forests "with their endless vistas of smooth red green-veined shafts holding up the warm dark roof, lessening away into endless gloom, paved with rich brown fir-needle — a carpet at which nature had been at work for forty years. Red shafts, green roof, and here and there a pane of blue sky, while for incense I have the fresh healthy turpentine fragrance, far sweeter to my nostrils than the stifling narcotic odour which fills a Roman Catholic Cathedral".
Kingsley admired greatly the grand old moor, stretching its brown flats right away towards Windsor for many a mile, and the green wilderness of self-sown firs. "There they stand in thousands," he wrote, "the sturdy Scots, colonizing the desert in spite of frost, and gales, and barrenness ; and clustering, too, as Scotsmen always do abroad, little and big, every one under his neighbour's lee, according to the good old proverb of their native land, 'Caw me, and I'll caw thee'.
"I respect these Scotch firs. I delight in their forms, from James I's gnarled giants up in Bramshill Park — the only place in England where a painter can learn what Scotch firs are — down to the little green pyramids which stand up out of the heather, triumphant over tyranny, and the strange woes of an untoward youth, seven years on an average have most of them spent in ineffectual efforts to become a foot high. Nibbled off by hares, trodden down by cattle, cut down by turf-parers, seeing hundreds of their brethren cut up and carried off in the turf-fuel they are as gnarled and stubbed near the ground as an old thorn-bush in a pasture. But they have conquered at last, and are growing away, eighteen inches a year, with fair green branches, silver-tipt, reclothing the wilderness with a vegetation which it has not seen — how many thousand years?"
I am not sure whether Kingsley was right. He thought the old Scotch firs disappeared from England with the glacial period, and were re-introduced, according to local tradition, by James I when he built the grand old house of Bramshill for his son Prince Henry, which we shall see presently. At any rate the firs are here. The winged seeds are carried by the south-west gales, and every seed takes root; and though thousands perish yearly, the eastern march goes on, up hill and down dale, covering the earth with a mantle of green.
Such is the onward march of the firs which we love to watch in these days as much as Kingsley did. But the woodman's axe is laying heavy toll upon our forests. Owing to the war ships can no longer bring to us the spoils of Norwegian woods, and we are obliged to help ourselves to our own native stock. So Canadian lumbermen, German prisoners and our own people are busily employed in cutting down these fir forests, and large tracts of country are as bare as barge-boards. But the heather will spring up again and the young firs seed and spread themselves, and there will be much planting, and nature will recover herself as England herself will do when the war is over, and we beat our swords into ploughshares and our spears into pruning-hooks. England like our fir forests has a wonderful capacity for recovery.
We pass with Kingsley through a gateway, out upon a village green, planted with rows of oaks, surrounded by trim sunny cottages, a pleasant oasis in the middle of the wilderness. A village cricket-ground where he used to play is in the centre. "We are great cricketers in these parts, and long may the good old game live among us", he wrote.
Kingsley loved hunting, and was a keen follower of Sir John Cope's and Mr. Garth's hounds, though in his Winter Garden he represents himself as a spectator only on his way to read to some old women in his parish like the good clergyman he was. But I have my doubts as to whether he did not ride after those hounds, although he asserts that his hunting days were over. He owns that "in the days of my vanity I have 'frank delight of battle with my peers far on the ringing plains' of many a county, grass and forest, down and vale". And no one has expressed greater admiration for the hound or described him in better English, both in prose and verse, than Kingsley did.
"Look at that old hound who stands doubtful, looking up at his master for advice. Look at the severity, delicacy, lightness of every curve. His head is finer than a deer's; his hind legs tense as steel springs; his fore-legs straight as arrows; and yet see the depth of his chest, the sweep of loin, the breadth of paw, the mass of arm and thigh, and if you have an eye for form, look at the absolute majesty of his attitude at this moment, majesty is the only word for it. If he were six feet high, instead of twenty-three inches, with what animal on earth could you compare him? Is it not a joy to see such a thing alive? It is to me, at least. I should like to have one in my study all day long, as I would have a statue or a picture, and when Mr. Morrell gave (as they say) two hundred guineas for Hercules alone, I believe the dog was well worth the money, only to look at".
A companion picture is that which he drew in his Ode to the brave North-Easter. The hounds seemed to have loved the poet-parson, and when the last day came, the day when he was buried in Eversley churchyard, the Garth Hunt was there, riders and hounds, to pay their homage to their departed friend.
Nor were they the only unaccustomed mourners at a graveside. In Kingsley's time there were many gipsy encampments on Eversley Common and in the district. These gipsies were very devoted to him, and called him their "Patrico-rai", or Priest-King, and Sir Charles Russell used to say that one of the most touching sights he had ever beheld was the grief of the vast concourse of gipsies who followed Kingsley to his grave.
Eversley folk have become more civilized since his time. They were hethcroppers from time immemorial and poachers by instinct and heritage. They were descendants of many generations of broom-squires and deer-stealers, and the instinct of sport was strong within them, though no more of the king's deer were to be shot in the winter in the turnip fields, or caught by an apple-baited hook hung from an orchard bough. They limited their aspirations to hares and pheasants. Kingsley loved them, and they loved him.
He describes the Eversley rustic as "a thorough good fellow, civil, contented, industrious, and often very handsome ; and a far shrewder fellow too — owing to his dash of wild forest blood, from gipsy, highwayman and what not — than his bullet-headed, and flaxen-polled cousin, the pure South-Saxon of the chalk downs. Dark-haired he is, ruddy, and tall of bone; swaggering in his youth; but when he grows old, a thorough gentleman, reserved, stately and courteous as a prince. Sixteen years have I lived with him, hail fellow well met, and never yet had a rude word or action from him."

Back to 'Byways in Berkshire and the Cotswolds'