The Bearwood Estate was gradually built up by John Walter II and John Walter III from the profits made by 'The Times' newspaper through most of the 19th Century.
Sadly, the heir to the estate John Walter IV was drowned when trying to save his brother and cousin when ice on Bearwood Lake broke on Christmas Eve 1870. His brother Arthur Fraser Walter was considered a 'safe pair of hands', and by the time of his death in 1910, the Bearwood Estate covered over 10 square miles. Death duties forced Arthur's son John Walter V to put it up for sale in 1911.
Land leased in 1904 to the Army for its Remount Depot was sold privately to the Government in 1911. Around half of the remaining land holdings, the so-called 'outlying portions', were parcelled up into 124 Lots and offered for sale over three days in March 1911.
The stupendous auction of the 'outlying portions', held at the Drill Hall in Wokingham (itself a building owned by the Estate and forming one of the Lots in the sale), was reported in great detail in the local press. The sale was considered a relative failure because many Lots had failed to sell, while most of those that did were at low prices. However, other Lots were either sold before the auction took place, or after the auction had concluded.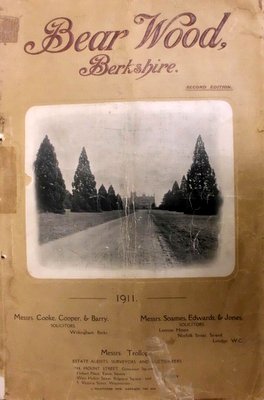 The remainder of the Estate surrounding the Mansion and its ornamental parkland was offered for sale in five large Lots at an auction in London in July 1911.
Lot 1 contained the Mansion and its parkland, plus St. Catherine's Lodge, plus the model village of Sindlesham, plus King-Street Farm (Winnersh) and Bearwood Farm (later to be known as Scot's Farm, Woosehill);
Lot 2 was an agricultural estate covering Randall's and Dowle's Farms on Barkham Road;
Lot 3 was Barkham Manor House and grounds;
Lot 4 was Barkham Square with Brook Farm;
Lot 5 was described as a Sporting and Agricultural Estate including Rook's Nest Farm, lakes and woodland in Barkham and Finchampstead centred on what is now California Country Park.
Although it had been hyped-up in the press as a possible home for royalty, the mansion failed to sell, and neither did the other four Lots, meaning that the Walter family remained at Bearwood for several more years.
The map below shows the extent of the land included in the sale, with Barkham in the centre, Finchampstead to the south, and the parishes of Newland, Winnersh and Wokingham Without (Woosehill) to the north. Click on the map for a larger image.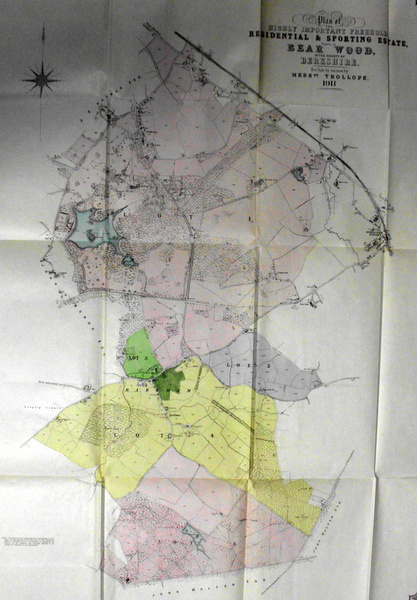 Back to Auctions Page Back to Maps Page