Related sites:
Photos of Lot 12 from 1994 and earlier
Map of Arborfield Cross from the 1947 Auction of the Newlands Estate
Aerial photo of Arborfield Cross, 10th July 1946
Photographs of Lot 13 taken in 1994 and earlier
Lot 13 is Mileham Cottage, named after the Mileham family who lived there in the 19th Century.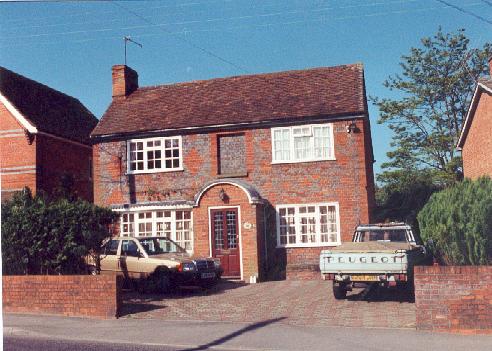 The Mileham family had been in the village for centuries. Matthew Mylam was a Churchwarden in 1615, and John Mileham was also Churchwarden in the late 1600's. This house was reputedly built by James Taylor (or Tayler) who had married Ann Mileham. By 1861, Ann was widowed, and lived with her brother William Mileham, a retired carpenter.
Since at least the late 1920's, it had been occupied by Miss Helen Tayler, who continued to live there until after 1960.
The Tayler family had in Arborfield Cross for at least a century. In the 1841 Census, James Tayler was still working as a master tailor, aged 70. James and Ann's eldest sons went into other occupations, but Charles, then aged 17, became a tailor, as did his younger brothers Frederick and George. By 1861, Charles had become a Master Tailor, while George, living next door, had long since finished his apprenticeship and was a 'Journeyman Tailor'. Arthur Charles was born in 1859 and was still in the village by the late 1920's. According to Guy Bentley, who wrote an article on 'Arborfield Street in 1910', the Tayler family then lived in the detached house between School Road and Eversley Road.