Properties

Related sites:
After the Great War in 1919, the Government proposed an agricultural scheme to rent smallholdings to returning soldiers, with the land to be owned by the County Councils.
In the Wokingham Rural District Council area, three local schemes were planned, plus a training centre to be built in Barkham. The lands at Barkham are still owned by the successor of Berkshire County Council (Wokingham District Council), though several of the cottages were sold at auction around 1980. Over the border to the west, there was a scheme at Great Lea House Farm in Shinfield, while in Newland, part of Carter's Hill Farm was offered.
There was a Special Meeting of the B. C. C. Small Holdings and Allotments Committee held at the Shire Hall, Reading, on Saturday, 20 September, 1919 at 11.30, which moved the schemes forward. Under the heading 'ARBORFIELD' (though it was in Newland Parish), was the following:
Part of Carter's Hill Farm. Mr J. M. Dimond who recently purchased Carters Hill Farm, Arborfield, has offered to the Council 20 acres of pasture land, and two semi-detached Cottages, part of this farm, for the sum of £1,150. The Sub-Committee are favourably impressed with the offer and consider it will form 2 useful Cottage Holdings and its acquisition is therefore strongly recommended. Approved and adopted.

A later meeting on Saturday, 17 January, 1920 got the parish right:

NEWLAND – Part Carters Hill Farm. A revised draft scheme dealing with this property has been under consideration. It provides for an expenditure of £…. Initial repairs, £640 on two small sets of farm buildings, and £60 on fences. Although this property (comprising about 20 acres) was purchased at a reasonable price with two excellent modern cottages on it, a loss is estimated at about ….

The 'Reading Mercury' of 13th November 1920 reported on all three schemes:
B.C.C. Small Holdings Committee. Newland: Carter's Hill Farm. The Ministry of Agriculture and Fisheries have approved the proposed work of adaptation to be carried out at Carter's Hill Farm at a cost of £870. The revised estimate of £870 is recommended by the Finance Committee for approval. Great Lea House Farm, Shinfield. A draft scheme to divide into 7 holdings. Barkham, Brook Farm – cost of materials recorded at £11,819.10s, in excess of original estimates.
The Local History Society would like to research this scheme in more detail. The holding is almost certainly Betty Grove. Some of the farm buildings are still standing. It is not clear which cottages were sold, but it seems to have been the more modern pair that still exist. The pair of cottages known as 'Betty Grove' have been demolished. Two cottages, each with a land holding, were let to ex-servicemen in the early 1920's.
We believe that Bert Lock took over the cottage now known as Birds Nest in the early thirties, together with the land in Winnersh parish. The tenant in the other cottage (Catkins) was evicted in the late thirties for poor husbandry and Bert Lock took over all the land. He farmed until the mid sixties when ill-health forced him to give up. He and his wife were re-housed at Bayley Court in Winnersh.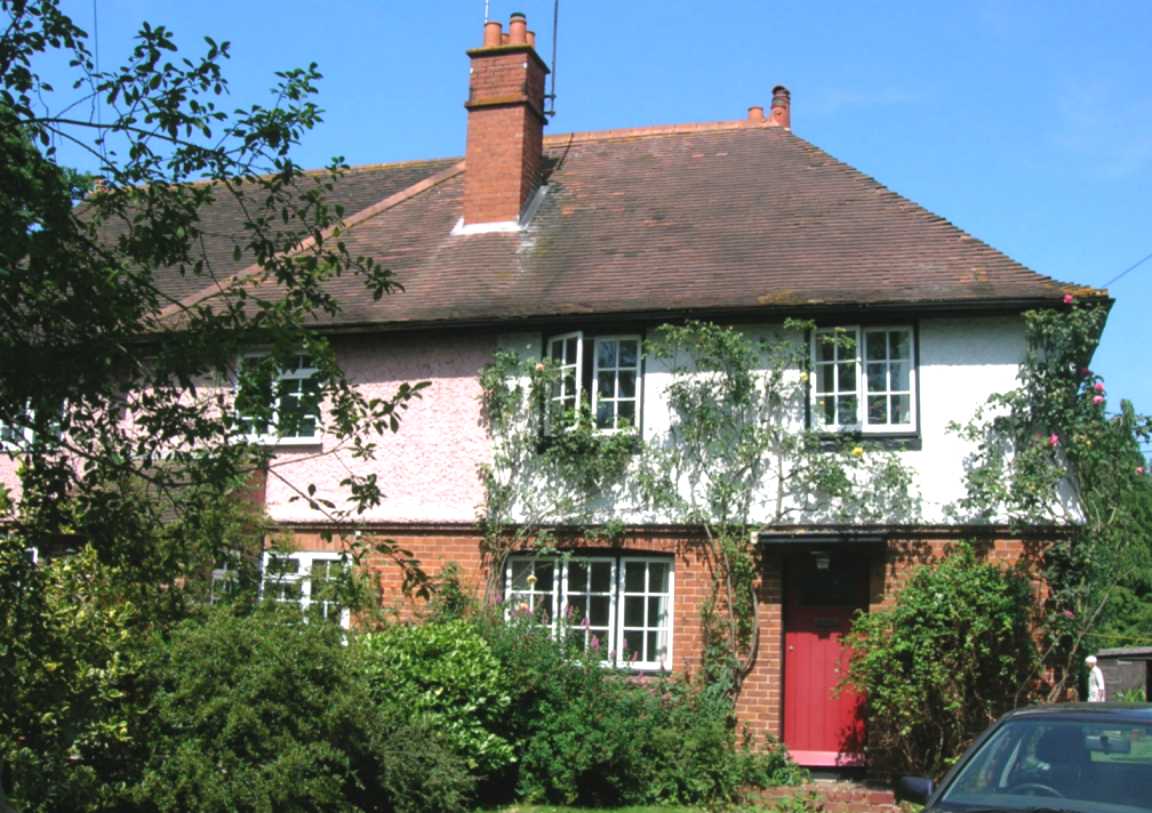 The old Thames Valley Traction Company sold off their old wooden double-decker bus bodies to owners of small holdings in the 1920's, and four ended up in the area - we think that they must have been used as hen-houses at Carter's Hill.

The small holdings at Carter's Hill were sold at auction by the County Council on 29 September 1969. Cottages (with vacant possession) and land in the parish of Winnersh were sold to Hatch Farm Dairies, Mill Lane, Sindlesham. Land in the former parish of Newland was sold to Mrs. J. Bryant. This was later owned by the former Parish Council Clerk, the late Liz Ayers, who maintained stables there. Part of the land in Winnersh must have remained with the County Council, because in the 1970's the Council created 'Sindlesham School' as a residential centre. The head teacher, Mr. Francis, and his family used to attend Arborfield Church, and at least one Parochial Church Council meeting was held at their house 'Star Goose'.

Back to Carters Hill Farm Auction Page

Back to Properties Page