Memories

Related sites:
The Dedication of the War Memorial in 1920
The transformation of the Crossroads, March - November 2004
The memorial cross was removed for 6 months in Summer 2004 while the five-way crossroads junction was replaced by a single large roundabout. It was re-sited to the east in October, and the first Remembrance Sunday parade took place in clear cold weather on November 14th.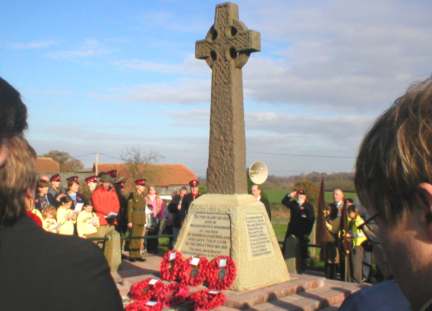 The whole area had been landscaped a week or two prior to the service. Around 300 people took part, filling the turfed areas either side of the Cross and spilling out onto one lane of the roundabout. In a break with tradition, the parade was directed along Link Way and School Road from and to the British Legion Hall.
Click on the thumbnail images below to see more of the parade and service.