War starts
The tone changed abruptly by August 1st 1914. The Leader writer stated biblically that 'The air is full of war and rumours of war', referring to Austria and Serbia.
The Great War begins
The 8th August edition reported that the Berkshire Territorials had mobilised, as did the Yeomanry. Anticipating the massive troop movements to come, Reading had been selected as a food base for the Army, using the Recreation Ground adjoining Reading Station. The GWR and L & SWR announced that excursions and reduced-rate tickets were suspended 'until further notice'.
A news item headed 'Arborfield Remount Depot' announced 'An advertisement in another column states that in the present emergency a large number of grooms are wanted at the Arborfield Remount Depot, and Major Badcock offers liberal terms to suitable men'.
A Notice stated 'The Shinfield and Grazeley Flower Show is abandoned', so perhaps the annual School Treat on 10th July at Arborfield only just made it on to the social calendar.
On Page 6 was a 'European War Map', printed sideways onto half a page. Surprisingly, it mis-spelt 'Serbia' as 'Servia'.
The Chief Constable of Reading had inserted a Notice into the paper, under the Aliens Restriction Order 1914: 'All German Subjects residing in the Borough of Reading, who are not naturalised, must report themselves immediately to the Borough Police Station for registration.'
Spurrings Garage of 140 Friar Street Reading posed the following suggestion in an advert: 'If your horses have been commandeered by the Government, why not use a light and economical motor vehicle? The 20 H.P. Ford'.
The following week, there was a national news item on the 'seizure of horses'. It pointed out that there were nearly 800,000 horses kept for agriculture, including mares kept for breeding but excluding saddle horses, carriage or trap horses and 'vanners'. The number of heavy draught horses recently obtained from agricultural holdings by the military authorities was around 9,000, representing only 1% of the total.
While the usual lists of auctions and other classified adverts continued to be published throughout the Great War, a new class made a regular appearance. The first was headed 'Prince of Wales National Relief Fund', where the Lord Lieutenant of Berkshire listed many names of donors in decreasing order of donation. A few were of £100, and the list included several members of the Simonds family, with John Hayes Simonds giving £5. Two parish churches were in the first week's list: Aldermaston (£17 – 6 –4) and Arborfield (£12-13-6).
The 22nd August issue featured a much longer list of announcements of marriages, several of which took place in Farnborough and Aldershot as the officers left for War, though there were none for Arborfield (but there were been none listed at all for Arborfield between 1914 and 1918).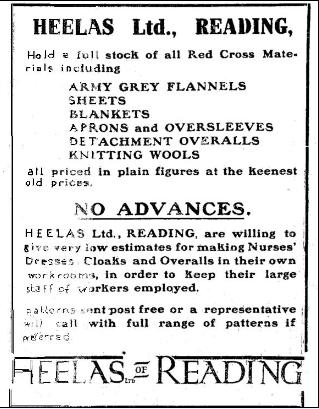 The tone of Heelas advertising changed; answering the need to clothe volunteers, its weekly Display Advert listed the availability of all sorts of Red Cross uniforms.
After the initial rush of activity, there were classified ads from GWR and LSWR announcing that excursions would resume from 26th August. Indeed, GWR offered a wide variety of holiday destinations including Cornwall and Ireland right up to the Spring of 1915, when its operations were scaled-back to make way for more frequent troop movements both and from the Front.
A more sinister display advert appeared on 22nd August. Placed by J Lyons and Co., the company announced that it had sought an Injunction against Lipton, Ltd., to stop speaking, publishing or writing to the effect that J Lyons or its Directors were composed of Germans.
By 26th September, it was reported that the Berkshire Territorial Association had taken over Bear Wood. The Mansion was assessed for its suitability as a Hospital, which it later became. Meanwhile, further west, Newbury was being equipped with a Prisoner-of-War camp capable of holding several thousand Germans. The newspaper itself was reduced in size to only 8 pages.
Along with other lists of donors was a new one: the 'Royal Berks Regiment Tobacco, Pipes & Cigarettes Fund'. Donations both from individuals and from organisations ranging from pubs to a branch of the Church of England Men's Society (CEMS) were listed over the ensuing months. For more information, click here.
The edition of 5th December had a Public Notice from the Chief Constable of Reading headed 'Carrier Pigeons'. It said 'It has been decided to use Carrier Pigeons for certain purposes in connection with His Majesty's Service. The public are requested to refrain from shooting or otherwise interfering with Carrier Pigeons while on passage'. It asked the Public to contact the Police if a pigeon were inadvertently shot down.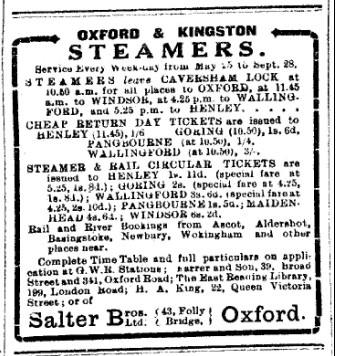 Throughout the war, once the initial panic had subsided, river steamer companies advertised their services.
Later on, when Reading became a major centre for treating the wounded, organising committees arranged for special outings on the river to riverside lawns of the gentry, with entertainments laid on.