Life before August 1914
For much of the 20th Century, the front page of the 'Reading Mercury' and other local newspapers consisted entirely of advertisements and notices. There was no news unto the middle pages.
At the beginning of 1914, regular classified advertisements always included some for inexpensive passages to Canada, which was looking for emigrants to work on its farmland; there were also lectures on life in Canada, reported on the news pages. Other adverts were for Australia, which the paper reported was short of domestic staff.
(The rival newspaper the 'Reading Standard' even had a copiously-illustrated Canadian Supplement on February 28th. Now many newly-settled Canadians were later to return to fight - and perhaps to spend time at the Canadian Convalescent Hospital at Bearwood?)
While the motor car was appearing in more and larger advertisements, several businesses still served the horse-drawn market. A well-known stud horse known as 'Gay Bob' featured regularly in a classified ad., and there were frequent sales of second-hand Governess Cars and other carriages. A major dealer in Reading sold Traction Engines and Steam Lorries.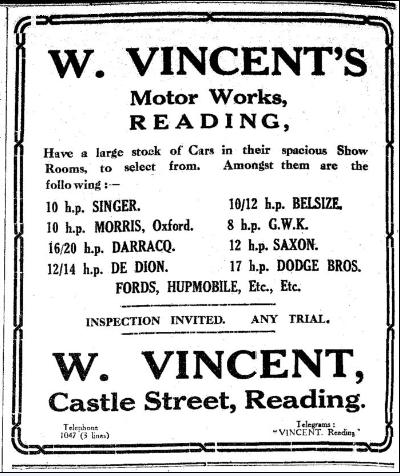 Although there were no Classified Ads from Arborfield itself, there were many for Vincent's of Reading. They ran the Wheelwrights workshop in Arborfield until the end of the 19th Century, when they moved to Reading and the Bentley family took over again in Arborfield.
The Vincent family celebrated a wedding in 1914, which was given extensive coverage in the paper, right down to detailed lists of presents.
The Vincents are listed in various Arborfield news items in subsequent years.
Was the Auctioneer F W Allwright (who described his profession as 'Land, Estate and House Agent and Valuer' of 22 Market Place, Reading) connected with the Allwrights who lived in Arborfield in the mid-19th Century? Mrs. Allright of Barkham was head of the Infant Department at Arborfield and Barkham school throughout the war years, having started teaching there in 1884.
Was 'Targetts Lmtd., Dealers in Horses, and Job Masters, Gove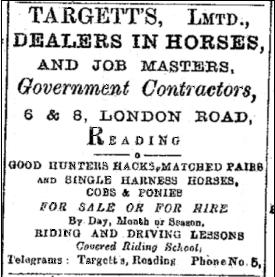 rnment Contractors', of 6 and 8 London Road Reading, connected with the Targetts late of the farm of the same name in Arborfield? This company offered 'Good Hunters' Hacks, Matched Pairs and Single-Harness horses, cobs and ponies' for sale or for hire by 'Day, Month or Season'. Riding and Driving Lessons were given, and there was a covered Riding School.
At the beginning of 1914 there was no hint of an impending war in Europe. Instead, the news was focused on the crisis in Ulster caused by the Government's proposal for Home Rule. There were many Unionist meetings locally, and John Simonds' name was linked with the Unionist cause.
Through the year there were articles on Suffragettes and their 'disgraceful' behaviour both locally and nationally. Houses were burned down, and even Wargrave Church was destroyed by fire, drawing a message of sympathy from Suffragettes in Wokingham, who thought that their sisters had gone rather too far. The Mercury reported that Mortimer Church now had a notice announcing that the building would henceforth be locked, but there was no mention that other parishes adopted this measure.
There were weekly columns on 'Aviation Notes and Incidents', including the many crashes, both close by (mainly around Farnborough) and on the Continent. Germany was claiming records for flights in 'dirigibles', of which the Zeppelin was an example. In June, a well-known French aviator held an air display in a field in Woodley, which later became an aerodrome in its own right. The Lee family who later took over Newland Farm in Arborfield had a connection with Woodley; they sold '100-Acre Field' to the aerodrome.
Other regular newspaper columns were on 'Disasters at Sea' and 'Perils of the Road'. This feature was later supplanted by a syndicated column on motoring, motor-cycling and cycling, also giving regular reports on the state of the roads.
Railways were frequently mentioned, along with regular adverts of rail excursions from Reading. Occasional incidents were reported, such as a pole smashing into the Guard's Van of a speeding express train at Twyford, luckily without injury. A major disaster at Reading dominated the headlines in June, when an excursion from the Midlands heading for a horse-race meeting at Windsor struck a Worcester-bound express travelling at 50 mph. The GWR driver was killed, but was the only fatality. There was praise for the robust structure of the GWR carriages, which stood up well to the accident.
Among adverts for 'Native Guano' fertiliser and 'Pure Australian Burgundy' at 1/10d per flagon, there were at least two Classifieds for local property:
On 3rd January, Haslam's offered Bartlett's Farm to let with immediate possession. The farm had a 'good old-fashioned House – two sitting rooms, seven bedrooms', ample farm buildings, 30 ½ acres of arable land and 53 acres of pasture, all for £95 a year.

Another advert on February 28th was a Sale of Furniture and Outdoor Effects at Targett's Farm. It included Bedroom and Reception Room furniture, plus poultry appliances and live poultry, and among many implements a dung cart and a Governess Car. Simmons and Sons were selling the items on the instructions of Mr. F J Bosley.
Arborfield featured heavily on the Point-to-Point racing calendar in 1914. From late February, there were announcements that the 1st Cavalry Brigade, Aldershot Command's Point-to-Point races would be held on Tuesday March 10th, promising 3 ½ miles of fair and natural hunting country at the 'Remount Depot, Arborfield Cross'. A full report followed on the 14th:
Headlined 'Two Horses Break their Backs', the article concentrated on the winners and the fickle weather. There was both warm sunshine and bitterly cold snow; a 'very heavy snowstorm broke over the country as the last race was being run. The going was very heavy owing to the recent rains, and galloping across the plough was a severe test to the horses'.

The report continued: 'Considering the circumstances, the running was excellent, and with large fields for each race, a very enjoyable day's sport was witnessed.

Towards the close of the second race the Hon. F L White's Sarefield fell at a jump and was evidently seriously injured. A veterinary surgeon was called and found that the poor animal had broken its back. A 'humane killer' promptly ended its sufferings.

A similar misfortune befell Mr F G Arkwright's Yellowskin in the 3:30 race, and the horse also had to be destroyed. The two accidents occurred within 50 yards of each other. Fortunately the riders were unhurt.

The Band of the 1st Dragoon Guards discoursed an excellent program of music'. To put the proceedings into context, the reporter stated that 'A goodly crowd assembled to see the day's sport, and costly fur coats were much in evidence'.

Among those listed as present, there were three recognisable names: Mr Guy Hargreaves, Mr. W. Simonds and Mr. Vivian Simonds.
The same paper on March 14th announced among other events the Staff College Drag Hunt at the Remount Depot, Arborfield; due to take place on Saturday March 28th. Meanwhile, the atrocious weather continued, and the Royal Artillery (Aldershot Command) Point-to-Point races at Bill Hill on the 24th were postponed 'and will possibly be abandoned', on account of the weather. The 4th April edition confirmed that it had been the wettest March on record, with over 4 ½ inches of rain in London, falling on 25 days in the month. There was no report of the Drag Hunt in the 4th April issue, so it too may have been abandoned.
The 'Reading Standard' on March 14th included a shorter report on the races. It was headed rather more dramatically 'Racing in snowstorm - Two Horses Injured in Point-to-Point in Arborfield'.
The 'Mercury' for 25th April reported that the Army Service Corps Point-to-Point took place that week at the Remount Depot at Arborfield in charming weather, and in the presence of a very large gathering. In the Nomination Race, Mr. J. H. Simonds' horse Diana won (John Hayes Simonds regularly featured in Point-to-Pont meetings in the 1920's).
Although Arborfield wasn't mentioned in a report on the Anniversary Celebrations of the Berkshire Association of the Church Missionary Society, the Hon. Secretary was Arborfield's Rector Joshua Anderson, who was quoted several times in the article.
Arborfield Grange came up for sale in June, featuring in the 6th and 27th editions. The advert stated that the Grange contained 2 halls, a billiard room, 4 reception rooms, bath and 'about 14 bedrooms', plus good offices, electric light, central heating, stabling, garage, 2 cottages and 'beautiful old grounds (a striking feature), walled and other gardens, and some pasture, in all about 13 acres. Gravel soil'.
On July 4th, it was announced that 'H H Princess Victoria of Schleswig-Holstein has graciously consented to be present at a Grand Fete to be given for the League of Mercy by Mrs King-George at 'The Brackens', Ascot on Thursday next, 9th July at Three o'Clock'. (At this stage, Schleswig-Holstein was firmly in Denmark, not Germany).
A rare news article about the village appeared on 18th July:
'Village Entertained by Mrs Hargreaves'
'Friday, the 10th Inst., will long remain a pleasant memory to the inhabitants of
this village. This was the occasion of the annual school treat, but in addition, Mrs Hargreaves, of Arborfield Hall, issued invitations to the villagers to tea and supper, and 259 accepted for tea and 335 for supper.
Swings, sports, Punch and Judy, switchback, a capital display by the Arborfield Troop of Boy Scouts, dancing, etc., made the time pass all too quickly for both children and adults.
Before tea commenced, Mrs Hargreaves welcomed people in a charming little speech, laying stress upon the fact that the best way to be happy was to help others to be so.
Mrs Norman Jackson, Mrs and Miss Ratcliffe, Miss Knibb, Mrs Stuart Rickman, Mrs Bruce, and the Rev. and Mrs J A Anderson were present, and right well did they help in the festivities. The Peppard Brass Band played selections during the afternoon and evening. The catering was carried out by Mrs Lines of Farley Hill, and was
eulogised on all sides.
Some postcards of Arborfield Hall at around 1910, from Martin Shearn's collection:
By August 1st, there were hints of trouble in the Balkans as well as those regularly reported in Ireland, and the 8th August edition announced the start of war. Village life was never to be quite the same again.