Memories

Related sites:
Although Zeppelins made only a relatively small number of raids on mainland U.K., they were considered effective, because they tied-up squadrons of aircraft that could have been used for other purposes. We don't know whether insurance companies managed to sell many policies covering damage from Zeppelin raids, but there were no known attacks on Berkshire.

At the outbreak of war in 1914, three commercial Zeppelins had been impressed into military service, and 88 more were constructed during the war.
They were mainly used for reconnaissance at sea, but Zeppelins started being used as bombers during 1915. That year, there were 20 raids, dropping around 37 tons of bombs which killed 185 and injured 471.

The effort was stepped up in 1916, when there were 26 raids, dropping 125 tons of bombs. The death toll was higher at 293 killed, and the number of injured increased to 691.

At first, defensive action was limited to dropping bombs from aircraft onto the airships. However, by 1917, fighter planes were equipped with forward-firing guns which were far more effective. There were only 11 more raids until the end of the war.

Three-quarters of the military fleet were lost, roughly half through accidents and half through enemy action.
Later in the war, bomber aircraft were used successfully in raids on London, but their range was strictly limited.

Zeppelin Scares
At the end of January 1915, the Defence of the Realm Act, 1914, was invoked to impose a partial black-out as a precaution against air raids, though it was assumed that the chance of a raid on Reading was 'very remote and highly improbable'. This led to a fatality by mid-February, when a lady was knocked down at the junction of Queen's Road and King's Road due to poor visibility.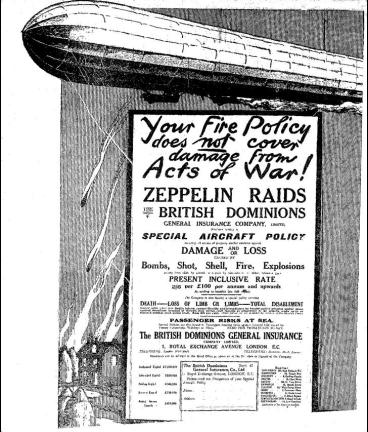 Insurers spotted a gap in the market by mid-summer 1915. larger and larger adverts started appearing in the local press, trumped on 12th June by a quarter-page display advert headed by a drawing of a Zeppelin.
The advert asserted that 'Your Fire Policy does not cover damage from Acts of War' and announced the availability of a special Aircraft Policy to cover this risk.
People must have been jittery, because a distinguished artist was arrested while sketching at Kennet-Mouth Bridge. He was taken to the Police Station followed by a growing crowd who suspected him of being a German spy, but he was later released without charge.
On January 1st 1916, there were several Notices, which listed orders for black-outs, detailing what precautions to take in shops, shop fronts, hotels, flats, dwelling houses, factories, workshops, railway sidings, on trains, in cars; this Order was to take place on January 10th.
The Black-Out claimed a local victim in January 1916; Mr. Ralph Simonds of Farley Hill was killed while riding his motor-cycle, as recorded here.
The February 5th issue reported the Zeppelin raid on Staffordshire and Leicestershire, where several people were killed, including some in remote locations where it was thought that they were showing a light. Previous to this, Zeppelin raids had been limited to the London area and the East Coast. For a detailed article, click here.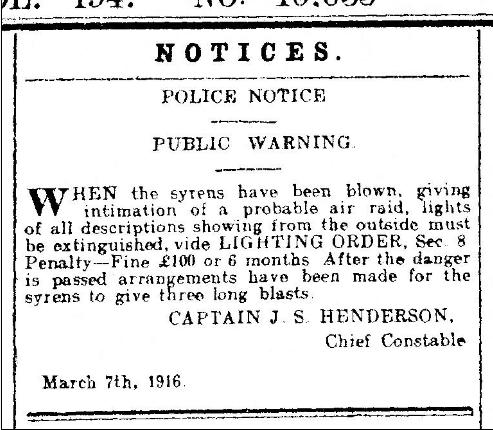 The March 11th issue published a notice about 'syrens' for air raids.
Despite the threat of bombing, there were still adverts for sea passages to South Africa and Australia.
The same issue reported a threatened Zeppelin raid on 'a southern town', which another local newspaper revealed was Reading.
However, the Zeppelins seem to have taken a different course entirely.
Read more about the 'raid' by clicking here.