Health Matters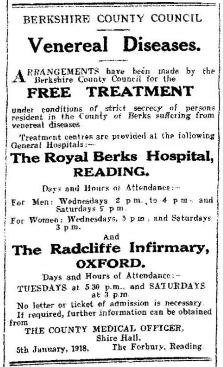 A rather sinister Notice appeared once only, on 5th January 1918, concerning the availability of treatment for Venereal Disease, in Reading and in Oxford.
It made clear that the treatment would be under conditions of strict secrecy, and that no letter or ticket of admission would be necessary.
The Notice was placed by the County Medical Officer for Berkshire.
However, a whole series of similar adverts appeared well after Armistice Day, once the troops were being demobilised. Examples are those from March 29th, April 12th and May 10th 1919.

From October 26th 1918:
THE INFLUENZA SCOURGE IN READING
–
ELEMENTARY SCHOOLS CLOSED
–
Reading, in common with many other large industrial centres, is in the grip of influenza, and numerous cases, some attended with fatal results, have occurred in the borough.
The schools have suffered severely from the ravages of the scourge, and the epidemic has made such progress amongst both pupils and teachers that, as a precautionary measure, it was decided on Wednesday evening to close all the schools under the control of the Reading Education authority.
In one school alone, as many as seven members of the teaching staff have been attacked by the complaint. Several members of the Reading Postal Staff are also sufferers, eight from the outdoor staff and ten from the indoor staff being at present on the sick list.
The Borough Police Force has so far been fairly immune from the disease, only three cases having been reported. There are also many cases amongst the military.
[In a separate article on the same day,
the newspaper reported the death of Mr. Arthur Sawyer,
who had been struck down the previous weekend,
and died on the Sunday]
No further cases were reported until March 1st 1919, when an increase in Influenza was noted; 23 deaths from influenza and pneumonia in Reading in the previous week.

On May 24th 1919, there was a letter from the Secretary of the Reading Branch of the R.S.P.C.A. about 'Rabies and the Muzzling Order'. 'Although the muzzling order is operative in various parts of Berkshire, it does not apply to Reading. [..] The total number of confirmed cases of rabies in the whole country since the beginning of the outbreak is 182. [..]'