From Volunteers to Conscripts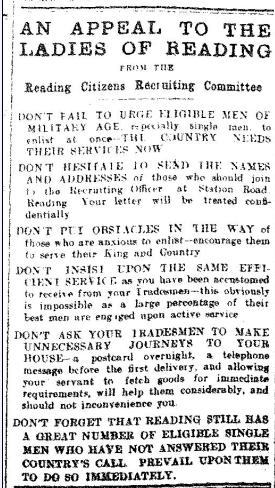 At the start of the conflict, many men volunteered to enlist to fight a war that 'would be over by Christmas'. Excitement and adventure in a foreign land might have been sufficient incentive. However, this didn't last for more than a few months.
The 15th May 1915 edition carried an advert designed to shame men to enlist. It exhorted them to report the less-willing men to the authorities, and asked them to consider ways in which they could ease the burden on local traders so that staff could be released for War service:
AN APPEAL TO THE LADIES OF READING
FROM THE
Reading Citizens Recruiting Committee
---
DON'T FAIL TO URGE MEN OF MILITARY AGE, especially single men, to enlist at once – THE COUNTRY NEEDS THEIR SERVICES NOW.

DON'T HESITATE TO SEND THE NAMES AND ADDRESSES of those who should join to the Recruiting Officer at Station Road, Reading. Your letter will be treated confidentially.

DON'T PUT OBSTACLES IN THE WAY of those who are anxious to enlist – encourage them to serve their King and Country.

DON'T INSIST UPON THE SAME EFFICIENT SERVICE as you have been accustomed to receive from your Tradesmen – this obviously is impossible as a large percentage of their best men are engaged upon active service.

DON'T ASK YOUR TRADESMEN TO MAKE UNNECESSARY JOURNEYS TO YOUR HOUSE – a postcard overnight, a telephone message before the first delivery, and allowing your servant to fetch goods for immediate requirements, will help them considerably, and should not inconvenience you.

DON'T FORGET THAT READING STILL HAS A GREAT NUMBER OF ELIGIBLE SINGLE MEN WHO HAVE NOT ANSWERED THEIR COUNTRY'S CALL. PREVAIL UPON THEM TO DO SO IMMEDIATELY.
At the same time, the War Office had authorised the 9th Battalion of the Royal Berkshire Regiment to be composed entirely of Tenant Farmers, Shop Assistants and Clerks.
There were reports in January 1916 that the Government was finally considering conscription rather than relying on volunteers, because Lord Derby's most recent drive wasn't providing enough recruits. After a heated debate, the Government passed the first reading of the Military Service (Compulsion) Bill by 403 to 105, with no local members voting against.
Early in 1916, reports started appearing for local Tribunals set up to hear of exemptions from war service; they appeared throughout the remainder of the war for several towns in Berkshire, including Wokingham and Reading. John Simonds regularly sat on the Reading panel to hear applications from companies and organisations for key personnel for exemption or postponement. Three examples were a tin-smith from Huntley, Bourne and Stevens, the biscuit-tin makers; a solicitor's clerk, and a worker at the Y.M.C.A. All three were granted postponements.
Later on, there were regular reports from the Berkshire Appeal Tribunal, where many who'd previously been granted exemption were nevertheless called up.
The manpower shortage was worsening; on April 15th 1916, there was an appeal for 1000 men aged 41 – 47 (over the current military age) to work on railway construction and building work, to report to any recruiting office in Berkshire.
The 16th September edition reported a raid on a travelling circus at Camberley for men of military age who had not registered themselves for duty. When the performance was half way through, the outside was surrounded by the Volunteer Training Corps while all exits were secured by special constables. Between 3,000 and 4,000 were present. All men of military age were summoned into the ring to produce their papers exempting them from service. Over 200 at once responded. Names and addresses of around 70 who hadn't papers were taken. When the examination was part way through, the acetylene lights went off, and the examination had to be abandoned. [Was this a deliberate act of sabotage?]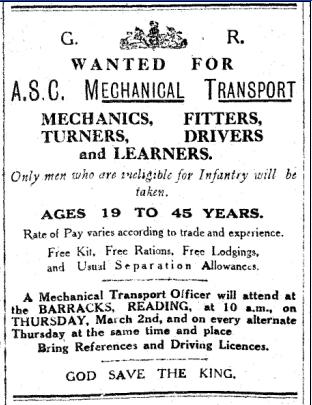 There was still room for volunteers, as shown in the classified ad. shown above, from late February 1917.
On March 17th1917, the following notice appeared:
'Progress of the National Service Scheme'
'Volunteers needed for agricultural work, aeroplane construction, building construction, coal mining, dock work, engineering, explosives factories, general labourers, iron and steel workers, motor mechanics, national shell factories, ship building, transport services, etc.'
In a letter to the newspaper, the Mayor, F. A. Sarjeant, asked for 200 canvassers who were urgently required to seek out volunteers in the Reading Area for National Service Week from March 31st onwards.

From April 27th 1918:
Notice
TO FARMERS AND MARKET GARDENERS
MILITARY SERVICE
HOW THE ROYAL PROCLAMATION WITHDRAWING EXEMPTION AFFECTS AGRICULTURAL WORKERS
All men born in the years 1895, 1896, 1897, 1898 and 1899 placed in Grade 1 or Category A, or who may be placed in Grade 1 after medical examination, will be called up for Military service, but could be exempted if highly skilled or considered irreplaceable by the County Agricultural Executive Committee.