The Revolution in Agriculture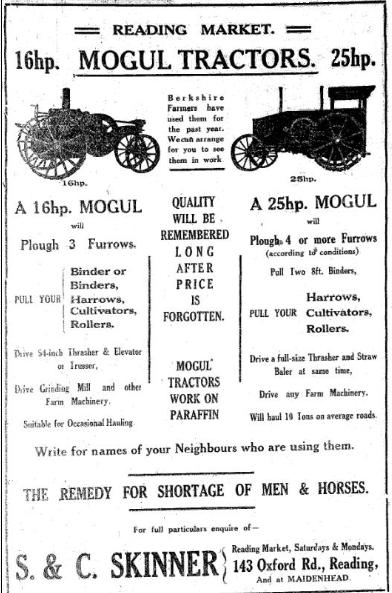 Just after the outbreak if war, there was a fear that agriculture would be denuded of its horses. A national news item on the 'seizure of horses' pointed out that there were nearly 800,000 horses kept for agriculture, including mares kept for breeding but excluding saddle horses, carriage or trap horses and 'vanners'. The number of heavy draught horses recently obtained from agricultural holdings by the military authorities was around 9,000, representing only 1% of the total.
Gradually, the shortage became manpower rather than horsepower.

The March 4th 1916 edition reported a discussion on the employment of women on the land, and how the labour shortage might be made good.
An advert on 19th August 1916 for Mogul Tractors described them as 'the Remedy for shortage of Men & Horses – Berkshire's Farmers have used them for the past year'.

On June 16th 1917, there was a report on an outbreak of Swine Fever.

The March 3rd 1917 issue contained several articles on measures to increase food production:
Ascot Parish Council had been offered ¾ acres of Post Office land for allotments, while

Sonning Parish Council was looking for permanent allotment since the present holdings had only one month's notice, which was discouraging for allotment holders.

There was also an article headed 'ARBORFIELD':
FOOD PRODUCTION
"To encourage food production, especially potatoes, parsnips, carrots, onions, etc., from the cottage gardens of Arborfield and Newland, a village aid committee has been formed. The object is to aid in the cultivation of the gardens by help and advice. To further the object, prizes will be awarded by the committee in such ways as they think will promote the scheme."

On March 17th 1917, The Berks War Agricultural Committee placed 3 adverts offering a scheme for:
Hire of Steam Tackle for ploughing;

Motor Ploughing;

Skilled soldier-ploughmen and agricultural labourers at H.Q., Barracks, Reading.
A news item reported that 600 were available – and further Notices appeared through 1917 offering soldiers to serve short-term as farm labourers.
These Notices appeared above one from The Machinery and Implement Section of the national Food Production Dept., asking farmers to place orders for coal and water to enable them to work every daylight hour, 7 days a week, under the auspices of the 'Steam Cultivation Development Association'.
There was also a Notice from the University College, Reading and Berks Agricultural Instruction Committee, announcing their annual 'Scheme for the distribution of Sittings for Eggs of Pure-Breeds of Poultry 1916-17': 'Arrangements have been made whereby Cottagers and Small-Holders resident in Berkshire will, until 30th April 1917, be enabled to obtain a limited number of sittings of eggs of certain Pure Breeds at the price of 2s 6d per sitting of 12 Eggs, including the cost of packing.
Meanwhile, M. Venner & Sons, 97 Southampton Street, offered '100,000 New-Laid Eggs at 2d each. 'Why eat Meat?'
It was reported on March 24th 1917 that the poor conditions for lifting root crops the previous autumn had caused a potato shortage in the Reading area.

From 26th May 1917, under BARKHAM:
'SPARROW CLUB – A well-attended meeting of the Parish Council was recently held with the view of forming a Sparrow Club, for the diminution in number of sparrows, which consume so much corn. There were present the Rev. P. H. Ditchfield (chairman), Mr. Sturges, Colonel Badcock, Captain Goater, Mr. W. J. Hissey, Mr. Isaac, Mr. Blake, Mrs. Harris, etc.
'Colonel Badcock reported that at the Remount Depôt they had destroyed a very large number of sparrows and rats. The subject was discussed by various speakers, and a committee was formed to consider the matter and to report to a subsequent meeting.'

While on the subject, it appears that Arborfield and Newland didn't have a Sparrow Club, much to the annoyance of the villagers of Swallowfield:
Jul 20th1918: SWALLOWFIELD – The Rat and Sparrow Club reported its successes in keeping down rats and house sparrows, earning 2/- a dozen rats' tails. The Wokingham R.D.C. [instigators of the scheme in Spring 1917] and Parish Councils were to pay two thirds of the money, the rest to come from private subscription. £8 15s has been paid out in the past year, representing over 1,000 rats' tails. On one occasion, 50 were brought in from Swallowfield Mill in one batch. [Historical note: Swallowfield Mill was burned down many years later, and only the Mill House now exists, as an hotel].
[…] In view of the undoubted success which has attended the formation of a club of this sort in Swallowfield, it is very discouraging to learn that in three quarters of the parishes in W.R.D.C the parish councils have not been public spirited enough to take any action in the matter. Fortunately for Swallowfield, two of the adjoining parishes, namely Shinfield and Finchampstead, have been patriotic enough to take similar action.

In August 1917, the weather turned nasty, as reported on September 1st:
SUMMER GALE – DAMAGE TO CROPS AND FRUITS.
Phenomenal weather for the time of year has been experienced this week.
Rain fell on Sunday, and on Monday afternoon and evening there was a perfect deluge. On Tuesday the conditions were but very little improved, and it was not until Wednesday afternoon that an improvement showed itself. All the same, a strong gale, which at times blew like a hurricane, prevailed. Large branches of trees have been blown down, and in the country districts there has been interference with traffic, whilst the Thames, Kennet, and the Loddon, have risen, with a very strong current running.
The heavy rains have had a bad effect on the corn crops in the district, and some of the low-lying fields, in which wheat is standing in sheaves, are pretty under water; and there are instances where the water having over-run the banks, the corn is floating. [..] A great deal of damage has been done to fruit, thousands of bushels having been brought to the ground. There is such an abundance of fruits that the damage is less serious than would otherwise have been the case.
[By September 15th, sugar rationing was causing problems. Applications for supplies for jam-making were reported to be over-subscribed.]

September 15th 1917: What is believed to be the first ever photograph in the Reading Mercury was a Mogul tractor that appeared in an agricultural advertisement.
There were no more photographs anywhere in the Mercury until January 29th 1918, when a large advertisement for tractors, containing four photographs, appeared above this editorial comment in bold letters:
'In order to encourage the production of food
we have opened our columns to special illustrations of
and articles on
modern methods of farming,
with a view to keeping local agriculturalists informed of
methods of mechanical cultivation available,
and other aids to production.
The case of agricultural machinery should be much more extensive.
Even where implements are used, they are often of old patterns,
and not the improved and up-to-date machinery which has many advantages.'
Did any farms in Arborfield use these tractors during the Great War?
There was an Autumn Farming Supplement on September 7th 1918, with another photo of a Mogul tractor.

On November 15th 1919, there was a long article on 'The Research Institute in Dairying at Reading – Its Present Opportunity'.
The following week was an article stating that local farmers were supporting the work of the Institute. For more information on the N.I.R.D., click here.