Auctions

Related sites:
Pictures:

Lot 1, Hall
Lot 2, Mill
Lot 3, Walled Gdns
Lot 4, Farm
Lot 5, Riverside
Lot 6, Riverside
Lot 7, Riverside
Lot 8, Rdg Rd
Lot 9, Rdg Rd
Lot 10, Rdg Rd
Lot 11, Rdg Rd
Lot 12, Rdg Rd
Lot 13, Rdg Rd
Lot 14, Rdg Rd
Lot 15, Field
Lot 16, Copse
Lot 17, Ch Lane
Lot 18, Ch Lane
Lot 19, Ch lane
Lot 20, Kiln Copse
Lot 21, Rdg Room
Lot 22, Copse
Lot 23, 3 cottages

Disputed Public Right-of-Way on Hall Farm, Lot 4
National Institute for Research in Dairying (NIRD)
The Auction Sale document of the Arborfield Hall Estate dating from 23rd October 1926 was held in Reading; it was sold in several Lots, the main purchasers being Guthrie Allsebrook (the Hall and its surroundings) and the Holdstock family (Hall Farm).
Along the Reading Road, there were seven lots (nos. 8 to 14) intended to be sites for development as housing plots. Had these been sold to individual purchasers, Arborfield would have been subjected to 'ribbon development' similar to what happened in Winnersh, and each plot might by now have been sub-divided into small estates. Luckily, they were all bought by the Holdstocks.
After WWII, the entire site was bought by Reading University.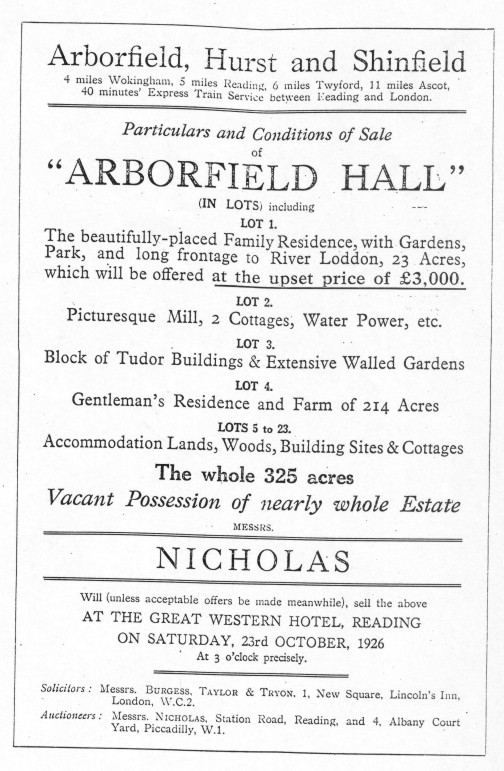 Back to Auctions Page Back to Maps Page