From the 'Reading Mercury' of November 25th 1939, there was an announcement, an article and a photo of Mary Inglis's wedding, under the title:
Bride Married in Uniform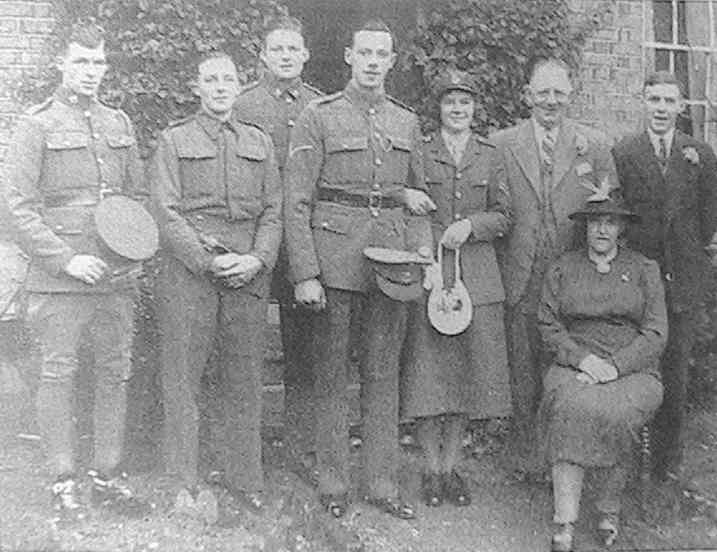 The wedding took place at St. Bartholomew's, Arborfield, on Saturday, of Miss Mary Margaret Inglis, daughter of Mr. and Mrs. A. B. Inglis, "Fair View", Arborfield Cross, and Mr. Gordon Sydney Stead, son of Mr. and Mrs. Pearson Stead, Malton, Yorkshire.
Canon J. A. Anderson officiated, and the bride, who was given away by her father, wore the uniform of the Auxiliary Territorial Service.
The best man was Mr. R. M. Inglis (brother of the bride). The honeymoon is being spent in Yorkshire.
Reading Mercury photograph caption: 'A Group after the wedding at Arborfield of Miss M. Inglis and Lance-Corporal Stead' – [Copyright photo - used by permission].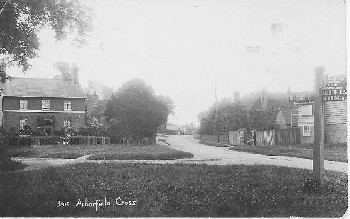 "Fair View" faces the cross-roads at Arborfield Cross, and has changed its name at least twice since 1939.
This is a view of Eversley Road, with "Fair View" on the left, on the junction with School Road.
The roads and road-signs have changed much since this postcard (part of the Collier Collection) was taken, and the hedge now obscures the house.
With acknowledgements to Berkshire Media
Back to 'Newspapers in Wartime' Main Page