A copy of the Auction Sale document of Arborfield Grange dating from June 20th 1921 can be seen at Reading Local Studies Library along with those for 1887 and 1914 . The main pages are shown here by permission.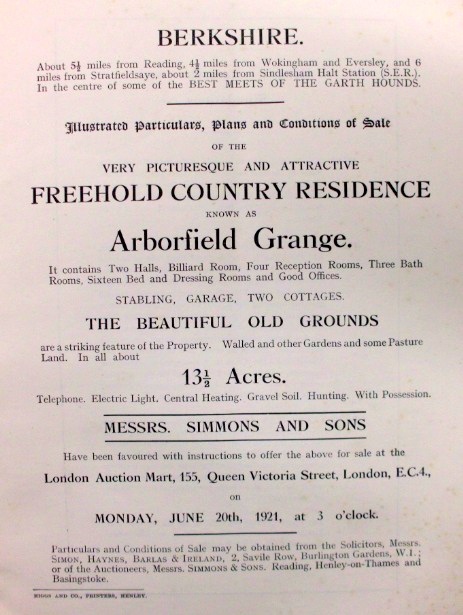 Two photographs were included, one of which had appeared in the 1914 Auction sale document. Click on each image to see a larger version: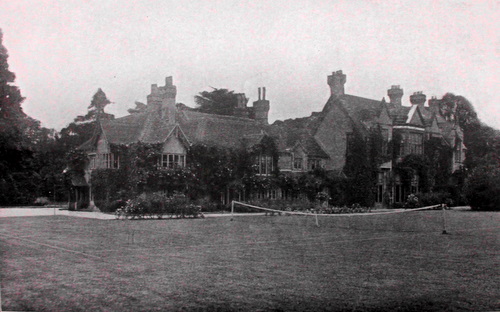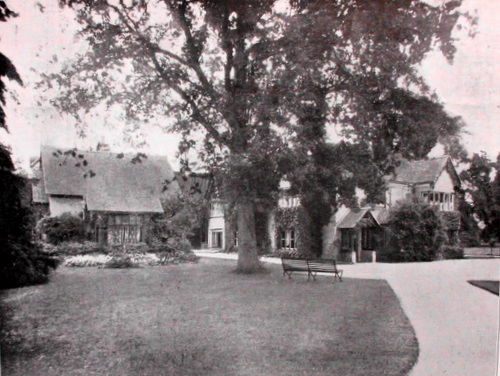 Much of the text was also recycled from 1914. The number of bedrooms had decreased by one, while the number of bathrooms had increased from one to three, and the telephone was finally installed. Apart from that, there was little change. The main text is shown below:

Particulars.
The Very Attractive Freehold Country Residence,
known as
ARBORFIELD GRANGE,
in Berkshire.
Arborfield is a Parish situated in one of the most favourable parts of the County. It has an area of about 1,427 acres, with a population of about 250 and consists of a small village with one or two Shops, Post Office (a Pillar Box adjoins the Grounds), and the Parish Church of St. Bartholomew, all within a [few] minutes' walk of "The Grange".
Reading, the County Town, is distant 5½ miles, with an important Junction Station on the Main Line of the Great Western Railway, whence London, the West of England and the Midlands are reached by an excellent service of trains, many of those to the Metropolis being non-stop and occupying 45 minutes only in the journey. There are also branch termini on both the London and South Western and South East and Chatham Railway systems.
The quaint old country town of Wokingham and village of Earley are respectively about 4½ and 3 miles, each with Stations on the London and South Western Railway and South Easter[n] and Chatham Railway, and Sindlesham Halt Station on the South Eastern Railway is about 2 miles.
Such beautiful spots as Eversley and Strathfieldsaye, immortalised as the homes respectively of the novelist, Charles Kingsley, and the first and succeeding Dukes of Wellington are within easy drives. The situation of
THE GRANGE
is most pleasant, and perfectly secluded. Entirely surrounded by a belt of Woodland, it stands in the midst of
Delightful Gardens and Grounds,
through which it is approached by a very pretty Carriage Drive, flanked with Laurels. From another direction a second Drive gives access to the back premises.
The Residence,
the main part of which is said to be some centuries old, is brick-built and gabled, with tiled roof and walls, and clad with Honeysuckle, Roses, Wistaria, Ivy, and other creepers, and is most picturesque. About 23 years ago a Wing was added in keeping with the rest of the House, and containing some very fine rooms [Note: the 1914 Auction sale document also said 'about 23 years ago', but it actually pre-dated 1891]. It enjoys a South aspect, and the Accommodation is as follows: -


On the Ground Floor: -
Porch. Entrance Hall,
tile paved, about 14ft. 6in. (exclusive of a large square bay window) by 13ft. 9in. and fitted with fireplace and marble mantlepiece.
Inner Hall,
about 16ft. 6in. x 16ft. 9in. (exclusive of recessed window), with quaint old beamed ceiling and
AN OLD OAK STAIRCASE ,
with oak dado, leading to the first floor.
Study,
about 17ft. x 16ft. 6in. (extreme length) a cosy Room, partly panelled, and exceptionally well fitted with numerous cupboards, shelves, drawers, etc.
Dining Room,
about 26ft. 6in. x 19ft. 6in., this room has a quaint old fireplace, oak mantelpiece, and an oak dado.
BOUDOIR,
about 17ft. 6in. x 14ft. A very pretty room with oak joinery, open hearth; and opening to a small Lobby and Lavatory and W.C. and thence to the Grounds.
ANTE ROOM,
about 15ft. 6in. X 12ft., with fitted lavatory (hot and cold), and W.C. adjoining (above referred to) leads to a
Very Fine and Lofty
Billiard Room,
about 29ft. 6in. (extreme length) x 23 ft. (into bay), with dado 4ft. up of old oak wainscotting, and fitted with a fine old open fireplace and carved oak mantelpiece. This room is about 13ft. 6in. high, and leads by casement windows to the Grounds. Beyond the Anteroom is a wide Lounge Corridor, with access to the Grounds and leading to a
Remarkable Handsome
Drawing Room,
measuring about 33ft. x 24ft. It is very lofty and has an arched plaster ceiling in relief with panels and rosettes; a deck-laid dancing floor, with oak parquet surrounds, and is fitted with a beautiful carved white marble mantelpiece, open tiled fireplace.

On the First Floor: -
approached by Principal and Secondary Staircases, is a
CHARMING SUITE OF ROOMS,
comprising
BEST BED ROOM, 19ft. x 17ft., fitted with pretty "Adam" style mantelpiece and fireplace; DRESSING ROOM or Small bed Room and another Good BED ROOM. Close by is a
BATH ROOM, having walls in glazed white tiles, Roman enamelled bath (h. and c.), fireplace, W.C.; and another Bed Room.
and the following
BEDROOM, 19ft. x 14ft. 9in.
BEDROOM, about 20ft. 3 in., extreme length, x 17ft. 6in. (into bay).
BEDROOM, about 23ft. 3 in. x 13ft. (exclusive of deep bay). This room in old days was apparently the drawing room, and is very lofty with "saddle" ceiling.
BEDROOM, about 19ft. 6 in. x 15ft. 6in., with good DRESSING OR SINGLE BEDDED ROOM adjoining.
SMALL BEDROOM
BATH ROOM (h. and c.), and W.C.
THREE MAIDSERVANTS' BEDROOMS and BATHROOM, and also approached by a separate staircase, are Two Attic Rooms (one of which will hold two beds).
THE DOMESTIC OFFICES
are on the Ground Floor and well shut-off from the Reception Rooms. They comprise: Kitchen, with "The Rival" range and hot plate, and communicating with scullery with sink (h. and c.); Servants' Hall; Two Larders; Brushing Room; Linen Room; Wine and Coal cellars; Boothole and W.C.
ELECTRIC LIGHT. HEATING. WATER.
The House is lighted throughout by electricity generated on the premises, and very efficiently heated by hot water radiators. The water supply is from a well 320 ft. deep whence the water is pumped by a pump worked by an electric motor which cuts off automatically.
The Post Office Telephone is installed.
The drainage both outside and inside has just been entirely remodelled under the supervision of Messrs. Watney and Son.
The Stabling,
Brick-built and Tiled is conveniently situated and ranged round two or three sides of a large enclosed and partly paved Yard. It is lighted by Electricity, and contains:
Well-fitted Stable of Two Stalls and Two Loose Boxes; Harness Room, with fireplace; large (space for two motor cars) and small coach-house, the former with Groom's Room over; Loose Boxes; Fodder Store, W.C., Two Dog Kennells [sic] and runs, &c. Also Range of Pigstyes, Bicycle-house, Coal and Coke Cellars, and other useful Outbuildings.
Well-built and fitted GARAGE 19ft. x 10ft. 9in. (heated by hot water pipes), communicating with repairing shop for chauffeur; Petrol house.
ENGINE HOUSE, fitted with Hornsby-Ackroyd 6½ -h.p. Oil engine, dynamo, switchboard, &c., and cell room with 54 accumulators.
The Pleasure Grounds & Gardens
are a charming and Remarkable Feature of this Property, and ensure complete shade and retirement. They are adorned with specimen Cedar, Chestnut, Elm, Oak, and Scotch Firs; beside fine old Yews, Hollies and luxuriant Conifers. There are delightful Rose Gardens and Pergolas, large Herbaceous borders; another Rose Garden, enclosed on three sides by Yew hedges, Azalea and Bamboo beds. The
Wide Spreading Lawns
afford space for two sets of Tennis and there is a charming old-fashioned walled-in Garden with Rose Arches, and well stocked. Small Range of Glass with lean-to Greenhouse (double) and Peach House; span roof greenhouse and Range of Pits. Wired-in bush-fruit garden.
Another attractive feature in the Grounds is an Ornamental Sheet of Water, and flanked by well-grown shrubs and underwood, and shaded by forest trees.
There is also a Productive Paddock with Pond and (detached) a piece of Vegetable Garden.
On the outskirts of the Property, in Greensward Lane are
Two Capital Cottages,
each containing Five rooms and Large Gardens.
The Property, which extends to about
13½ Acres,
and stands on a subsoil of gravel, will be sold with
POSSESSION.
The property is subject to a small tithe amounting to £2 3s. per annum.
The land tax payable upon the two Cottages amounts to 3s. per annum.
SCHEDULE.
| | | |
| --- | --- | --- |
| Ord. No. | Description | Acreage. |
| | | |
| 115 | House and Grounds | 9.553 |
| 116 | Lake | 1.107 |
| 105 Pt. | Garden and Belt | 0.475 |
| 107 | Pasture | 2.072 |
| 176 | Two Cottages and Gardens | 0.566 |
| | | -------- |
| | | 13.773 |
Click on the map to see more detail: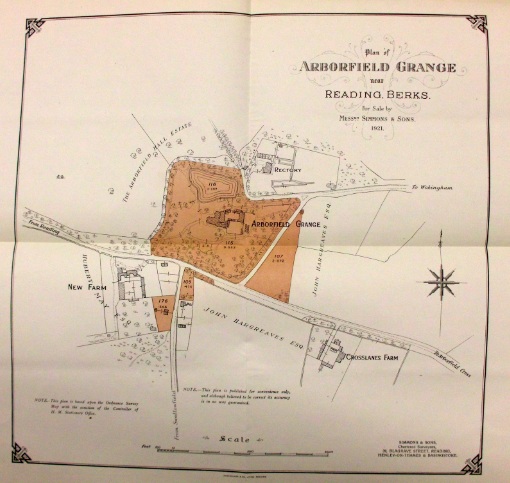 Back to Arborfield Grange Page