We are grateful to Chris Humby and the Bishopstoke History Society for their research on 'The Mount' at Bishopstoke, and for uncovering Thomas's rather colourful history away from Arborfield.

In June 1870, a legal agreement (indenture) was established between Thomas Hargreaves, a Geraldine Bertha Warriner and a Dillon Lewis (a solicitor?) and contained the following caveat:
"Out of regard and respect for Mrs. Geraldine Bertha Warriner, Thomas Hargreaves is desirous of settling during her life the interests, dividends and annual proceeds arising from the sum of £6,000 which he has paid to Dillon Lewis as a trustee...
"After her death these (monies) are to be paid to T. Hargreaves. She covenants that in respect of this trust she will not hereafter, in any way, wilfully interfere or communicate with the said T. Hargreaves."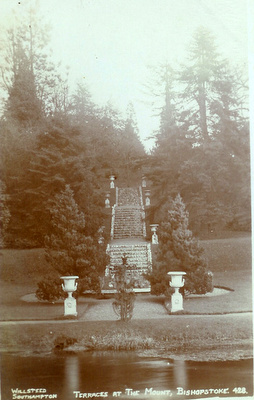 Clearly, Thomas wanted to tell the wider world that whatever had been going on between him and Mrs. Warriner, it was to stop.
Only one month later, Thomas Hargreaves bought 'The Mount' at Bishopstoke near Southampton.
According to the advertisement placed in the local newspaper:
"The whole property embraces an area of about 28½ acres, every step through which leads to some fresh point of beauty, and the 'tout ensemble' is so exquisite that it would, indeed, be difficult to conceive a more interesting or perfect place.
"The Auctioneers have, therefore, great pleasure in recommending the property to the attention of those who desire to obtain an elegant home in the south of England."
However, within a few years it had been remodelled into an Italianate style, and the house and grounds of 'The Mount' were thrown open for many local events.
It was very convenient for Thomas Hargreaves to return to Berkshire where he remained a J.P., as shown on the Cruchley Railway Map of 1863: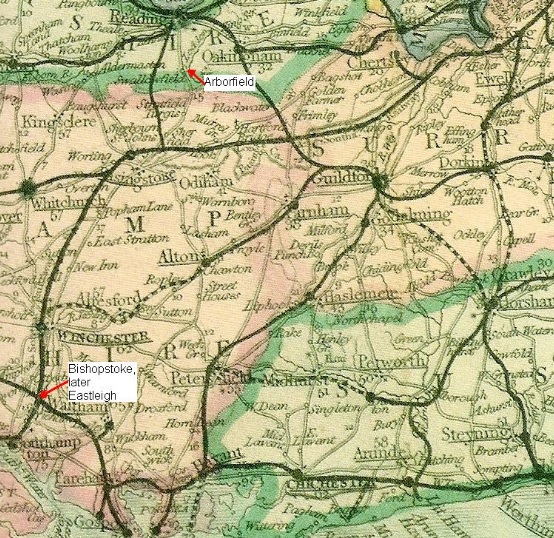 According to the 1871 Census, the head of the household at 'The Mount' was Mrs. Warriner, living with her two children plus six servants; in addition, a certain 'Thomas Hargreaves' was listed as a 'Visitor'. This pretence was maintained for a few years until the couple was accepted by the villagers and gentry alike - especially since The Mount was made available for so many social events.
Later newspaper reports would show that the couple remained close until her death in December 1885. A baby was born in 1871 at Bishopstoke and was named Cecil Montague; when Thomas' Will was published in 1891, Cecil was identified as his own son.



Capt. Hargreaves inherited a huge fortune on his father John's death, and spent a fair bit of it on a schooner known as the 'Ianira', with a uniformed crew of 12. It was used on extended trips to the Mediterranean, and like other expensive yachts, it was followed closely by reports in the local newspaper, the Hampshire Advertiser.

It was later given a steam engine to help it to enter and leave port, though for most of the time it would be powered by sail.



Capt. Hargreaves was called to appear as a witness in the Florence Arthur Libel Case in April 1887, where he effectively admitted that he and Florence Arthur had been living as man and wife until late 1886.

Around 1889, Thomas Hargreaves struck up a friendship with a young artist, Julius M Price, who much later wrote a book 'My Bohemian Days in London', where he gave a vivid and affectionate description of Thomas.
Even at that time, Captain Hargreaves was not in good health, and on 28th September he died at the British Hotel in Jermyn Street, London; he was buried in the family vault in Arborfield, where his long-suffering wife Sarah joined him following her death in 1918.

Back to Hargreaves Family Page