From an article in "The Hop Leaf Gazette", September 1935
(Simonds Brewery magazine)
It is not generally known that The Swan, Arborfield, was built as far back as 1661, but the popular proprietor, Mr. E. R. Penniston, is as up-to-date as the premises are old. He is very keen on his garden and has spent many pounds in beautifying it. By dint of hard work he has had a wonderful display of flowers, fruit and vegetables, and it would be hard to imagine pleasanter surroundings amid which to partake of a cup of tea or quaff from a tankard of Simondsí world-renowned ale.
Something to eat and something good at that, at any time, is Mr. Pennistonís motto, and the ever-increasing number of visitors who call there bear ample testimony to the excellence of the food provided and the appetising manner in which it is served.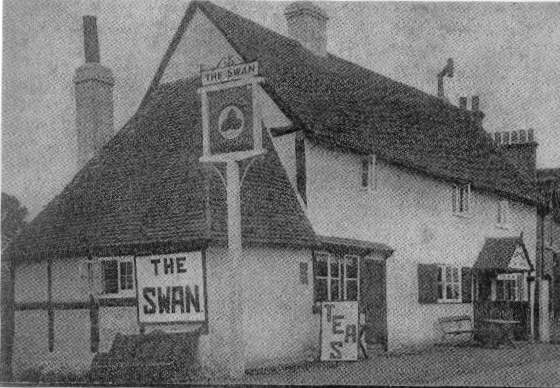 The other Sunday he supplied no fewer than 11 lunches and 63 teas, and so pleased were his customers with their fare that they called again later in the day and partook of further refreshment, many of them having learnt to "Say, S.B.!"
A year ago there was the nest of a thrush in the rosary at The Swan and the family was safely reared. This year a chaffinch built her nest there, but a wicked old owl discovered it when the nest contained young and made a meal of them.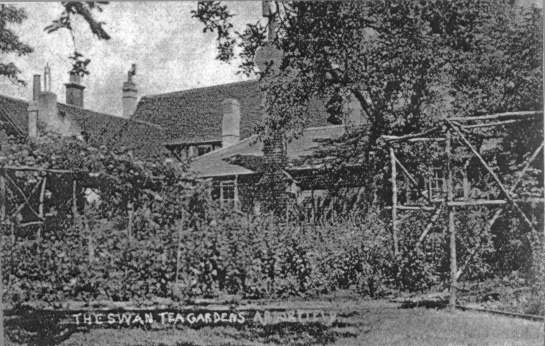 When I visited The Swan the other day the pictures of some very fine fish in one of the rooms naturally arrested my attention. I gathered that the genial landlord was an angler and I had not been in conversation with him many minutes before I learned that not only was he an angler, but a most expert one who had carried off numerous prizes by virtue of his wonderful skill. He is President of no less than five fishing clubs and on the committee of many others. Eight years in succession has he won the West Hampstead Club Cup for Pike. The biggest he took out of the Thames weighed no less than 17 lbs. 9 oz. He has caught them much larger in reservoirs.
A member of the Deep Sea Angling Society, he won the medal for bass caught off Beachy Head. These are but a couple of instances of Mr. Pennistonís prowess in the gentle art.
He is equally successful in catching customers. And the ground bait he uses is civility, prompt and proficient service, and only the best of food and drink.
Call in and see him sometimes.
With grateful thanks to David Simonds.

Back to 'The Swan'

Back to Properties Page