The Old Post Office
The Old Post Office building is thought to be late 15th or early 16th century. It was home to the Mattingley family for 200 years, and became a Post Office in the later 1800's. Next door to the south was the old forge with its wheel pit in front (the circular cover for the pit was still in place in the 1970's). This old postcard shows both buildings in their heyday.
Here's what they looked like in 1994: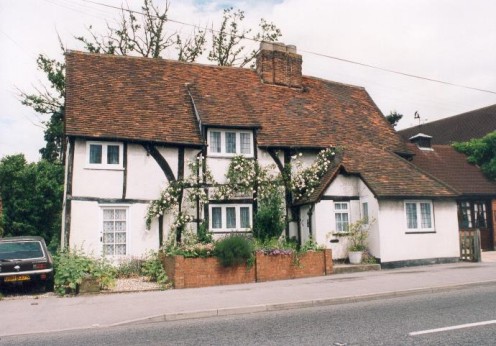 HISTORY OF THE POST AND CARRIERS IN ARBORFIELD AND NEWLAND
The following lists derived from commercial directories show the development of the postal service in the area. The common carriers were used to carry more or less anything, and would run regular services from the yards of inns in major towns such as Reading, as listed below.
ARBORFIELD
1842 - CARRIERS
BINT Start from Black Horse Daily
BOURNE Start from Lower Ship Wed. & Sat. 3pm
HOBSON Start from Upper Ship Wed. & Sat. 3pm
MARLOW Start from Saracens Head Wed. & Sat. 4pm
SAMS Start from Black Boy Wed. & Sat. 4pm

NEWLAND
1842 - CARRIERS
UPTON Start from Lower Ship Wed. Fri. Sat. 2pm
ALSO, WEBB. FULLER, WIX (Snares Directory)

1847 - THOMAS CHANDLER, receiver (Landlord of the Swan P.H.)
Letters arrive from Reading 10am: dispatched 6pm (Kellys)
1863 - DANIEL COX, Sub postmaster (also Builder and Grocer)
Letters arrive 9am: dispatched 5.30pm (Dutton Allens)

In 1876 The nearest money order and telegraph office was Wokingham. (Harrods Directory).
Here's the first mention of the Post Office being established in the Old Post Office building.
1883 HENRY MATTINGLEY, Blacksmith and Postmaster. Newland. (Kellys)

HENRY MATTINGLEY is mentioned as Postmaster up to and including 1899, and in that year his wife MRS. HARRIET MATTINGLEY becomes the sub postmistress.
In 1891 the Post Office was also dealing with Money Orders, and Telegraphs, plus being an Annuity and Insurance Office. (Kellys)

By 1903 MRS HARRIET MATTINGLEY is the sub- postmistress in her own right, as well as being named as Blacksmith.
1907 as 1903.
Carrier to Reading, WILLIAM FULBROOK, daily except Wednesday (Kellys)
1911 JOHN HENRY MATTINGLEY, sub postmaster.
By this year, the ever improving service to Arborfield and
Newland was as follows:
Letters arrive from Reading 6.50am, 1.10 & 6.30pm;
dispatched 8.15am, 12,30, 1.15 & 6.35pm. Sundays arrive at
6.50am; dispatched 12.05pm. WALL BOXES: Arborfield
Grange and Newlands.

1915 The first mention of deliveries is made. Letters arrive 6.50am
& 1.40pm, plus 6.40pm (to callers only), delivered 7am &
1.50pm; dispatched at 8.15am & 12.25, 1.40, & 6.25pm.
Sundays as 1911.

By 1924, The Thames Valley Traction Co. Ltd. omnibuses pass through from and to Reading and Camberley stations at frequent intervals. Thames Valley buses used to carry parcels.

1928 JOHN HENRY MATTINGLEY, Blacksmith and sub postmaster. (Kellys)

No entries for 1931 and 1935.

1939 PERCY JOHN MATTINGLEY Shopkeeper and Post Office.
Percy was helped by his sister Marjorie, until he was coshed over the head by robbers in the early 60ís whilst in the Post Office. He carried on for a while, but was never the same man.
MISS MARJORIE MATTINGLEY took a greater control of the Post Office and shop and retired in 1968, when the Post Office moved over to Arborfield Stores. Percy died in 1971.