Bartlett's Farm has not changed that much since it was sold by the Swallowfield Park Estate in 1913, as can be appreciated from the footpath on the hill ridge south of Arborfield Court. This walk is recommended!
The farmhouse is thought to be 16th century and extended in the 18th century, brick with an old tile gabled roof. In the "Reading Mercury" of December 1964 it was described as combining antiquity with interior grace; and the brick cellar suggests Tudor origin.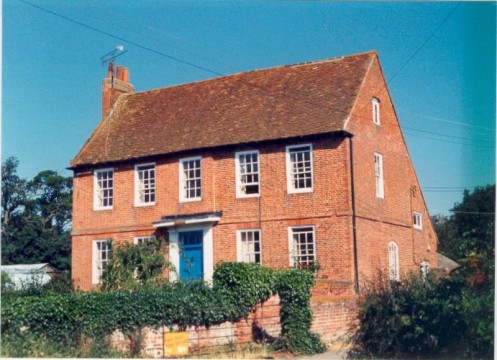 According to the 1839 Tithe Map, the land at Bartletts was owned by Sir Henry Russell and occupied by Stephen Mills Esq. The extent of Bartletts at this time can be seen on the Tithe Map. However, before 1835 it was owned by John Simonds, as shown in correspondence held at the Berkshire Record Office.
We know from Swallowfield Park Estate Records that in 1884 Bartletts Farm had an acreage of 207.133. In 1913 the Arborfield part of the Swallowfield Park Estate was offered for sale by auction by its then owner Sir Charles Russell (grandson of Sir Henry). It was described in general terms as Lot 3 - (coloured RED on Plan) 'a particularly attractive Residential and Sporting Property - comprising 195 Acres 2 Roods 5 Poles' and it was offered as 'Bartletts & Ducks Nest Farms'. Most of the land and the Homesteads are described as 'in hand' although two tenants are named for some of the land; A. Broadway and Russell Deane. The 'Fine Jacobean Staircase' is noted in the sale documents within the 'Charming Old House'.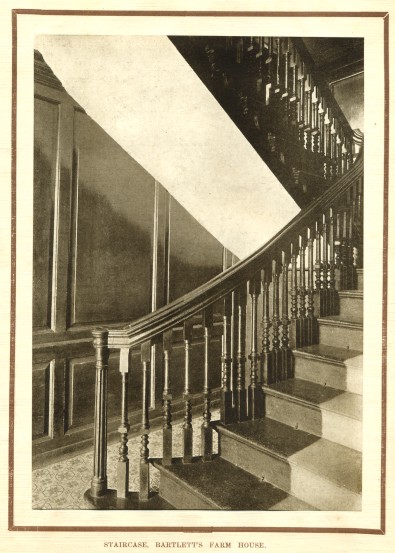 From the Agricultural Returns of 1917, it would seem that Lionel and James Kearse were farming at Bartletts. These Returns show the type of crop and the quantity grown and the amount of livestock on the land. At this time the total acreage of crops amounted to 81.5.
Between 1931 and 1939, Harold Ravenscroft farmed at Bartlett's. Click on his name to read some memories of him.
In September 1945, Jack Tilley took over; it was taken over in 2001 by his son Graham Tilley.
The farmhouse and gardens were bought in 2011 by Graeme and Lucy Cooper, who started a thorough restoration of the main building in late Spring.

THE OCCUPANTS OF BARTLETTS FARM

1827 John Bartlett (listed in Bishop's Transcripts of Burials as a 'Farmer', aged 67; the Register of
Burials in 1825 also has 'Grizzle Bartlett, aged 32, and in 1833, Sarah Bartlett, aged 78)
1839 Stephen Mills Esq. (1839 Tithe Map)
1841 Henry Englefield - 30 yeoman (census)
Sarah Englefield - 25
Alfred Englefield - 3
Mary Englefield - 1
Thomas Salter - 30 Ag. lab., male servant
William Cooper - 15 Ag. lab., male servant
William Nutt - 15 Ag. lab., male servant
Thomas Hunt - 10
Ann Barlow - 15 female servant
Ann Lunn - 13 female servant
Edward White - 55 Ag. lab.
1842-43 Mr. Henry Englefield (P.O.Directory)
1851 Tyral Englefield - 52 farmer - 109 acres (census)
Charles Smallbones - 46 visitor
George Egleton - 20 Ag. lab., servant
1854 Henry Englefield farmer (farm not named) (P.O.D.)
1854 John Maynard farmer (P.O.Directory)
1861 Henry Englefield(wid) - 50 farmer - 170 acres (census)
Mary Englefield - 21 daughter
Henry Englefield - 17 son surveyor
Frances R. Englefield - 12 daughter
Charles Riches - 22 shepherd, servant
1863 Trial Englefield farmer (no farm named)
Henry Englefield named as Steward to C.L. Russell (P.O.D.)
1869 Tryal Englefield farmer (no farm named)
Henry Englefield farm bailiff to G.L.Russell(P.O.D)
1881 Charles Brant - 34 Ag. lab. (census)
Susan Brant - 32 wife
Emma Brant - 10 daughter scholar
George Brant - 7 son scholar
John Brant - 3 son
William Brant - 10 months son
John Spicer - 20 boarder shepherd
1889 William Rogers - Barletts Farm (elec. reg.) - land owned by Sir George Russell
1891 Edwin J. Issacs - 40 farmer (census)
Elizabeth A. Issacs - 40 wife
Elizabeth A.L. Issacs - 14 daughter scholar
Bertha L. Issacs - 10 daughter scholar
Henry J. Webb - 14 servant on farm
1895 Edward Churchill farmer, Bartletts Farm (P.O.D.)
1899 Henry Nash farmer, Bartletts Farm (P.O.D.)
1901 Andrew Nash - 50 farmer (census)
Mary Ann Nash - 37 wife
F. M. M. Nash - 17 daughter
N. A. Nash - 14 farmer's son
1903 Andrew Nash farmer Bartletts Farm (P.O.D.)
1911 Alfred John Broadway farmer Bartletts (P.O.D.)
1913 A. Broadway (sale document)
1915 Lionel and James Kearse farmers (P.O.D.)
1917 Lionel and James Kearse (agricultural returns)
1920 Ruffell Bros. farmers Bartletts (P.O.D.)
1924 Ruffell Bros. farmers Bartletts (P.O.D.)
1928 Lawrence Ruffell farmer Bartletts (P.O.D.)
1931 Harold Ravenscroft farmer Bartletts (P.O.D.)
1935 Harold Ravenscroft farmer Bartletts (P.O.D.)
1939 Albert Edward Brook farmer Bartletts (P.O.D.)
1945 Horace John Tilley (known as Jack)
2002 Graham Tilley


The 'Reading Mercury' recorded a tragic incident at Bartlett's Farm in 1930:
Reading Mercury, August 30th 1930
SHOT DEAD ON HIS BIRTHDAY
Arborfield Farmer's Death
GUN ACCIDENT
Tragic end to Evening's Shooting
The story of a son's tragic homecoming from holiday was told at the inquest on Thursday evening on Lawrence George Ruffell, aged 58, a farmer, of Bartlett's Farm, Arborfield, who was accidentally shot dead while out alone shooting pigeons on his land on Tuesday night. Tuesday was his birthday.
The inquest was held by the Reading district coroner, Mr. R. S. Payne, with a jury.
The son of the dead man Lawrence Alfred Ruffell, a laboratory assistant at Reading School, said that on Tuesday he returned home from a holiday about 7 p.m., and was told that his father had gone out shooting about a quarter of an hour previously. At 10 p.m., he and his mother became anxious as he had not returned and they searched for him. Between midnight and 1 a.m., he found his father's body in some bracken by a wire fence separating a field from a copse.
ACCIDENT AT A FENCE
It was stated that the unfortunate man walked with a limp on the left leg and from the position of the body and the gun, P.C. Keen concluded that he had stumbled in getting over the fence and thrust the butt of the gun on the ground to right himself with the result that the jolt caused both barrels to discharge, shooting him in the head.
Thomas Bennett, a worker at the farm, said he was with his employer gathering peas near the scene of the accident on Tuesday afternoon, when some pigeons flew up. Mr. Ruffell said "I must have some of them tonight, Tom," meaning that he would shoot some pigeons. Pointing to a tree over the wire fence where the body was found, Mr. Ruffell added "That would be a good place to get them." He was in a cheerful mood and remarked that it was his birthday. He said he would not be able to stay long shooting pigeons that night as his son was returning from holiday and he wanted to see him.
Dr. J. H. Beatty, of Swallowfield, described the terrible injuries to the head and face.
A verdict of "Accidental Death" was returned.