Cross Lanes Farm experienced drama on Saturday 18th July 1931 at lunchtime when an aircraft crashed in a field. Later that year, the farmer was in court to defend his good name. Here is how the 'Reading Mercury' reported the case in its August 22nd edition:
ARBORFIELD FARMER SUMMONED
A successful Defence
At the Reading Police Court on Friday last week Charles Walter Crocker, of Cross Lanes Farm, Arborfield, was summoned for selling milk deficient in milk fat on May 28th. The case had been adjourned on two previous occasions.
Mr. F. J. Ratcliffe appeared for the defendant, who pleaded not guilty.
Mr. G. C. Porter, who prosecuted on behalf of the Corporation, said an assistant inspector visited the defendantís shop at 19 Whitley Street, Reading, and purchased a pint of milk from the defendantís servant, Miss D. Rollins. The analysis showed a 24 per cent deficiency in milk fat, that was to say instead of containing three per cent at least of such fats, it only contained 2.28 per cent.
Fifty Years in the Trade
Mr. Ratcliffe stated that the defendant had been for 50 years in the dairy trade. He did not actually take part in the milking himself, but he employed competent assistants, and every precaution was taken to ensure that the milk supplied to the public was absolutely pure and as it came from the cow. It was a well-known fact that milk constantly had come below the standard fixed by the Board of Agriculture from perfectly natural causes. The milk in this case was not an unusual sample, having regard to the weather they were having at the time. The grass crop was exceptionally heavy, and cows would take grass in preference to hay or cake. That was bound to affect the milk.
Witness stated that it was impossible for milk to have been tampered with.
The Bench had decided that the defence had rebutted the charge, and the case would therefore be dismissed.
With acknowledgements to the Reading Chronicle Series.

What we now call 'full-fat' milk is around 3.5% fat, while 'semi-skimmed' is around 1.75%, so perhaps Farmer Crocker's cows were simply anticipating a trend...

Remnants of the original farm out-buildings are still visible off Walden Avenue, which was built on one of the fields in the 1930's (and finally received a tarmac surface in the late 1960's). It is not known when the small dairy in Whitley Street was closed; the parade of shops is still quite prominent at the top of the hill on the road south of Reading.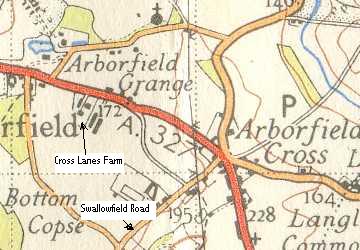 In the 1800's Cross Lanes Farm was part of the Swallowfield Estate, owned by Sir George Russell. The Tithe Accounts identify the tenants as R Wells possibly from the late 1880's, and Mr Lucas from around 1907; Charles Crocker didn't appear until 1919, though some years the tenant's names weren't listed.