Memories

Related sites:
The headmaster of the village school, W. J. Verrall, was very active during WWII. According to the 1939 Kelly's Directory, he was the Secretary to the Royal Berkshire Friendly Society, using School House as his contact address. Not only was he involved in the school in daytime, he also responsible for the Evening Institute when it relocated back to Arborfield, and helped to plan and run myriad social events. Things were different; gone were the reports of Empire Day celebrations that used to appear in late May (such as that in the 'Times and Weekly News' of May 27th 1938).

The school's successes were announced in the newspapers throughout the war, as shown in this selection from the 'Reading Mercury':

July 22nd 1939:

Newland, Arborfield and Barkham School

Henry G. A. Lawrence

, a pupil attending this school, has been awarded a free place at the George Palmer Central School, Reading, as a result of the county scholarship examination.

June 29th 1940:

Arborfield: Scholarship Success

As a result of the recent examination held by the Berkshire Education Committee, Peggy Hornby and Cynthia MacDonald, pupils attending the Newland, Arborfield and Barkham C.E. School, have been awarded special places at the Wokingham County Girls' School.

August 22nd 1942:

Arborfield: Scholarly Success

A scholar of Arborfield Church School, Malcolm John Preece, has gained a special place scholarship at George Palmer School, Reading.

November 7th 1942:
Arborfield School Prizegiving
Canon J. A. Anderson distributed Diocesan prizes and certificates at the annual prizegiving of Arborfield and Barkham C. of E. School. Results were:
Bishop's Prize:
Stanley Bennett and Maurice Allen;
Certificates:
Percy Austen and Joan Deacon;
"Ditchfield" Memorial prizes:
Percy Austen,
Malcolm Preece,
Joan Deacon,
Maureen Storr,
Peggy Bird,
Thelma Preece,
Connie Kinch,
Stanley Day,
Donald Wallace,
David Brown,
Rosemary Fleming,
Robin Bentley,
Robert Kinch,
Catherine Bell.

April 17th 1943:
Arborfield: Book Recovery
In a collection organised by Mr. W. J. Verrall, 2,400 books were sent to Arborfield School for the National Book Recovery and Salvage Appeal.
August 11th 1943:
School Sports
Arborfield School Sports were held at Newlands Farm (by permission of Mr. Lee). The events were organised by Mr. W. J. Verrall and the school staff, assisted by Mr. H. Empson, Mr. Martin and Mrs. Tuthill. Canon J. A. Anderson and a number of parents and friends were present.
Winners included:

E. Loveday,
R. Sharp,
L. Warner,
D. Wallace,
J. Cogbill,
G. Rich,
H. Cox,
F. Mulford,
M. Day,
P. Murphy,
B. White,
D. Churchill,
T. Preece,
M. Rich,
M. Johnson,
H. Goff,
J. Cordery,
C. Kinch,
P. Lillywhite,
W. Eden,
H. Lewcock,
S. Day,
J. Quick,
F. Barker,
P. Sherring,
M. Johnstone,
David Bell,
C. Luxton,
Desmond Bell,
C. Sellwood,
B. Orchard,
R. Harper,
D. Bush,
R. Aitchison,
G. Churchill,
B. Sharp,
H. Cox.
In the tug-of-war, the Blue team (Desmond Bell, Aitchison, Harper, Barker, S. Day, Lewcock) won, with the Green team (David Bell, Eden, Cogbill, Cox, Bentley) as runners-up.
The girls v. boys relay resulted: 1, boys (Loveday, Warner, Allen, Harper).
August 25th 1943:
Arborfield: School Garden
In a competition for the best kept plot in the Arborfield School allotment, the plot tended by R. Rich, R. Harper and R. Aitchison won the first prize. Mr. Hunt of Arborfield Court was the judge. Through the generosity of the school authorities, the gardens of several villagers whose husbands or brothers are serving in the Forces, have been dug and cultivated by the boys of Arborfield School.

On November 6th 1943, there was another School Prize Giving report: At the annual prize-giving, held at the C. of E. School, the prizes were presented by Canon J. A. Anderson. The awards were:
Bishop's Prayer Book, Maurice Allen;
New Testament, Joan Deacon;
Certificates, Leonard Warner, Stanley Day;
Prayer Book, Desmond Bell.
"Ditchfield" memorial prizes:
Senior A: Dorothy Churchill, Maurice Allen, Stanley Narroway;
Senior B: Joan Deacon, Laurie Hall, Connie Kinch;
Junior A: Betty Goff, Pamela Sherring, Gerald Rich;
Junior B: Betty Orchard, Donald Wallace, Fred Mulford;
Standard 3: David Browne, Maurice Day;
Standard 2: Rosemary Fleming, Rosemary Lamport;
Standard 1: Robert Kinch, Roy Preece, Carol Slade;
Infants: Peter Browne, Edward Scarlett.

The following year, we learn the name of one of the church school teachers, as reported on October 28th:
Arborfield: Presentation
At a ceremony at the school recently, Mrs. Churc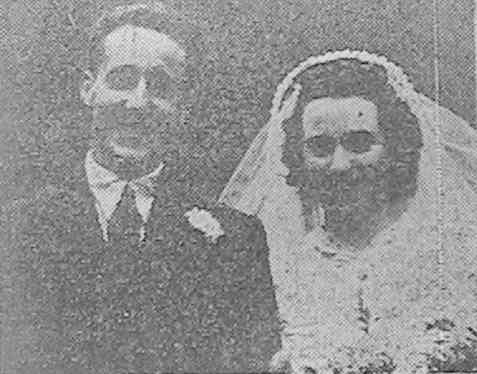 h [nee Potter] was presented with a hanging mirror, on the occasion of her marriage, by Mr. W. J. Verrall (head master), on behalf of the children and staff.
(The photo on the right is copyright 'Reading Mercury; used by permission.)
(The 'Times and Weekly News' also included a photo of the wedding in its issue of October 13th, captioned: 'Sgt. E. Gilling Church, R.E.M.E., and Miss M. V. Potter, married at Arborfield'.)
On December 30th 1944, the 'Mercury' recorded the School Prize-Giving as follows:
At the annual prize-giving and carol singing held at the school, Canon J. A. Anderson thanked Mrs. Gillett, who presented the prizes. Awards were:
Bishop's prize, Stanley Day;
New Testament, Connie Kinch;
Certificates, Joan Deacon, Patricia Murphy;
Book prizes, Thelma Preece, Gerald Rich, Ronald Taylor, Bernard Sharp;
Standard 4, Harold Cox, Marlene Rich, David Browne;
Standard 3, Robin Bentley, George Churchill, Rosemary Fleming;
Standard 2, Robert Kinch, Diana Empson, Carol Slade, Ann Middleton, Betty Bell;
Standard 1, Peter Browne;
Infants, Anthony Bennett, Graham Barker, Ann Slade, Edward Scarlett;
"Ditchfield" memorial prizes:
Standard 7, Joan Deacon, Connie Kinch, Robert Aitchison;
Standard 6, Betty Goff, Peter Strong, Pamela Sherring, John Cogbill, Pearl Upton;
Standard 5, Fred Barker, Anthony Wilson, Donald Wallace, Connie Sellwood, Jean Cordery;
Standard 4, Betty Orchard, Helen Goff, Maurice Day;
Standard 3, Raymond Barker, Kenneth Bell, Joan Hamblin.
With acknowledgements to Berkshire Media ('Reading Mercury').
Back to 'Newspapers in Wartime' Main Page