On September 16th 1939, the 'Reading Mercury' recorded the first military casualty of the War, caused by a road accident:
Soldier Killed by 'Bus
Black-Out Tragedy at Arborfield
Unsuccessful Effort to Save his Life
A black-out tragedy at Arborfield on Saturday night, in which two soldiers were pinned under the front axle of a Thames Valley 'bus, was described at an inquest at Aldershot on Tuesday on Gunner Oswald Hughes (33), who received a fractured base of the skull. The other soldier, Gunner John Kavanagh (36), was also taken to hospital, where Hughes was placed in an iron lung after artificial respiration had been applied without avail.
The Aldershot coroner (Mr. H. M. Foster) conducted the inquest without a jury, and the Thames Valley Traction Co. was represented by Mr. John Brain.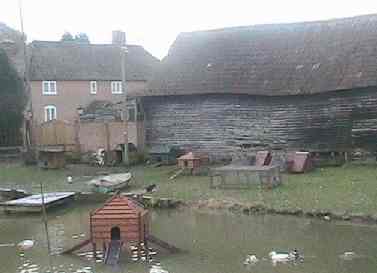 Joseph House, of Duck's Nest Farm, Arborfield, said that at 10:30 p.m. on Saturday [September 9th], while standing at his bedroom window, he heard some men singing in the road and saw a car swing out to avoid them. A 'bus travelling in the same direction then stopped suddenly, and on going outside he saw two soldiers under it. He put the speed of the 'bus at 10-12 m.p.h.

The driver of the 'bus, Douglas Victor Hadley, of 85, Addison Road, Reading, said he had been driving for 26 years. He had been employed by the Thames Valley Co. since 1925. On Saturday he was driving the single-deck relief 'bus from Reading to Wokingham, via Arborfield. The 'bus was full of soldiers, and as they were singing, he would not have heard outside noises very much. His lights were dimmed in accordance with regulations. He could not see very well and had to drive by the white line. It was a dark night and there were trees along the road. A car came towards him with its sidelights unscreened, and after drawing in to the left to let it pass, he went back on to the white line.

"Just after this", he said, "I saw some forms in front of the 'bus, right on top of me, and although I applied the brakes immediately, the 'bus struck the men as it was pulling up. They must have been nearly in the centre of the road. I did not hear them before I saw them". Replying to the coroner, Hadley said the speed of the 'bus was eight to ten miles an hour.

The coroner recorded a verdict of "Accidental death".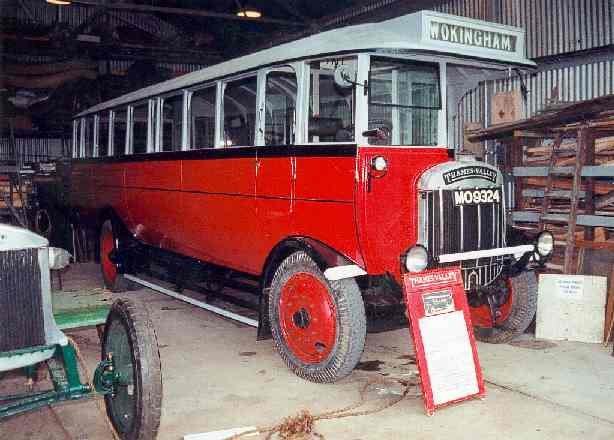 [The bus could well have been an old Tilling-Stevens B9A from 1927, and due for disposal in 1939 until the war intervened. By October 1939, there were 12 still in service on relief duties at Reading. Many relief buses were put on to the late Saturday evening services.
One has survived into preservation at Amberley Chalk Pits Museum in Sussex, and is seen here in the mid-1990's while still under restoration]
With acknowledgements to Berkshire Media ('Reading Mercury').
Back to 'Newspapers in Wartime' Main Page