As the Second World War progressed, more and more local people were enlisted in the armed forces. The local newspapers recorded their exploits, decorations and calamities, often accompanied by small photographs of individuals or (later in the war when Prisoners of War were being followed-up) groups.
Here are the stories from the 'Reading Mercury', recorded in chronological order and including details of fund-raising for Prisoners of War. Photographs are reproduced by permission:
1940: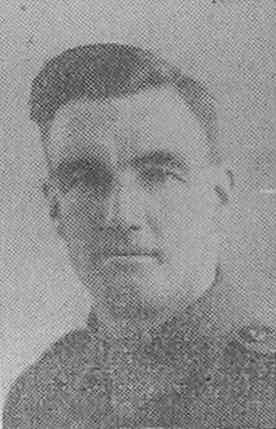 June 22nd: Photos of B.E.F. casualties included Pte. W. A. Mearing of Arborfield (left), who died of his wounds.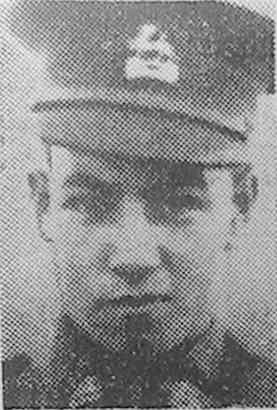 July 27th: Photo of Pte. A. T. Bush, of Arborfield (right), who is wounded and a prisoner.
August 10th: Photo: Pte. T. W. Austen, Arborfield (left), reported missing. [Tom Austen had been taken prisoner, and was not repatriated until after the war]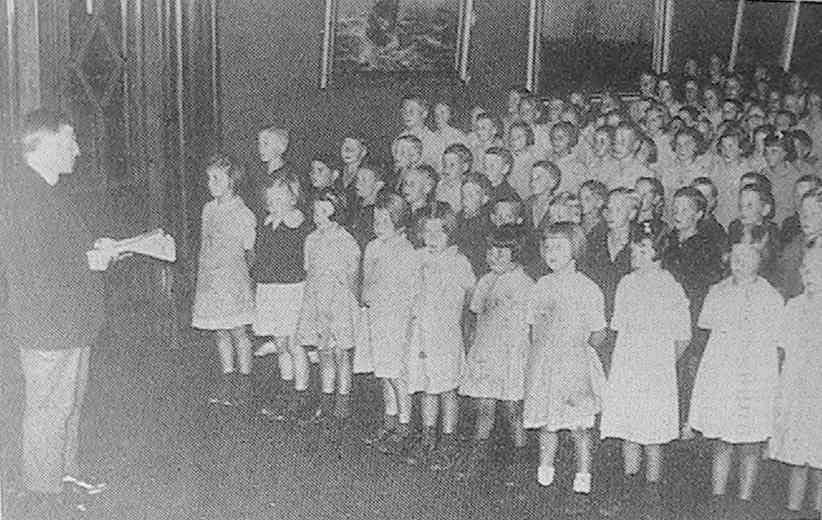 August 24th: Photo of Rev. A. E. Gilbertson, Chaplain Warden at the R.M.N.S., Bear Wood, reading the account of the gallant action of a former scholar, Lieut. Richard Beer Stannard, which won for him the V.C.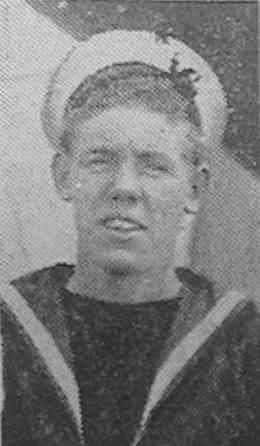 September 28th: Photo: Leading Seaman H. R. Watts, Arborfield, mentioned in dispatches. Also a report:
Mentioned in Dispatches – Leading Seaman H. R. Watts, T.G.M., Royal Navy, has been mentioned in dispatches. He took part in successful operations which prevented much war material from falling into the hands of the enemy.
He is a native of Arborfield, and represents the third generation of his family to have served the country. His father, who lives at 22 Council Cottages, Arborfield, was in the Royal Navy and his grandfather was in the Army.
Watts' only brother is serving in the Coldstream Guards. [but see also September 26th 1942]
1941:
August 30th: Horse Show at Arborfield – For Prisoners of War Funds. Held on Saturday August 23rd; organised by Mrs. Simonds of Newlands, but the location wasn't mentioned. Many prizewinners were listed.
1942: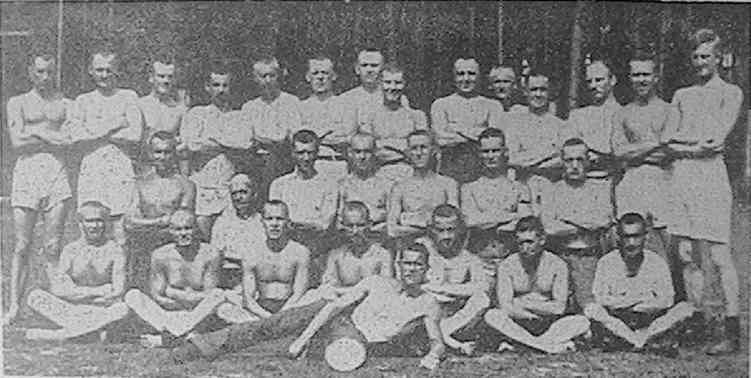 January 31st: Photo (above): Alec W. Verrall, R.E., of Arborfield, first on left in second row, a prisoner of war in Germany since June 1940.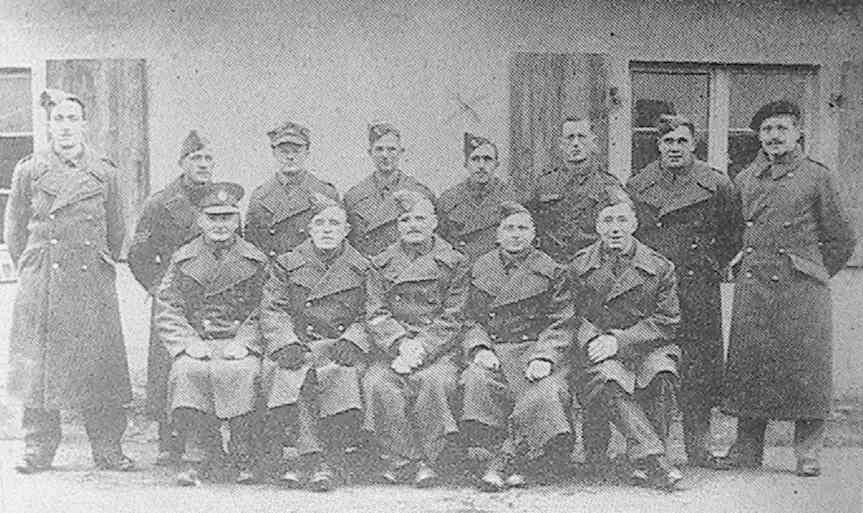 May 9th: Photo (above): Alec W. Verrall, of Arborfield (fourth from right, back row), who has been a prisoner of war in Germany since June 1940.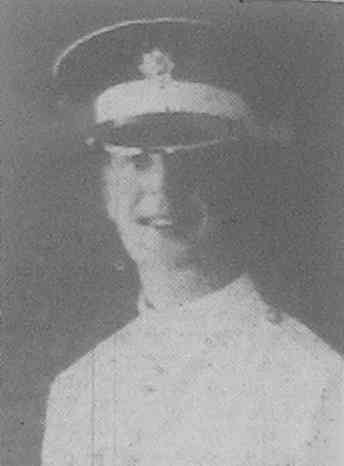 September 26th:
Photos: R. J. (Dodo) Watts, lost on H. M. Submarine Urge, and his brother S. H. Watts (on right), Coldstream Guards, who died on active service in the Middle East.
They are the sons of Mr. and Mrs. Watts, of Arborfield.
October 10th: Arborfield Man Awarded D.F.M.: The award of the Distinguished Flying Medal has been made to 1167722 Sergeant Kenneth George Elcoate, no. 148 Squadron. This airman has taken part in operations against Germany in the Western Desert, Greece, Crete and Sicily. One night in June, 1942, he was captain of one of the bombers detailed to drop flares on Banghazi [sic] to provide illumination for an attack on the port by heavy bombers. Despite most intensive defensive fire, Sergeant Elcoate succeeded in his mission, and thereby contributed much to the great success achieved by the bombing force.
Sergeant Elcoate was born in 1916 at Aston, Oxon. His home is "The Withers", Arborfield, Berks. He was a clerk before enlisting in 1940.
October 17th: D.S.M. for Arborfield Man: Mrs. Watts, of 22 Council Cottages, Arborfield, has been informed that the Distinguished Service Medal has been posthumously awarded to her son, Petty Officer Henry Roland Joseph Watts, of H.M.S. Urge. The official citation states:
"Petty Officer Watts served as a Torpedo Gunner's Mate for a year while H.M.S. Urge was operating in the Mediterranean waters. In charge of the main armament, he carried out his duties with the utmost zeal and devotion. He showed unflinching steadiness and cheerfulness in adversity and his fine conduct and good example contributed much to the many successes of the ship."
Mrs. Watts has also had the misfortune to lose another son, S. H. Watts, Coldstream Guards, who was killed in the Libyan dessert [sic]. Writing of him, his company commander says:
"He was one of the bravest men I have ever had the privilege to meet. He remained at his post through everything, and seemed completely without fear. He would work on cheerfully throughout the most terrific bombardment".
'Photographs of the two men appeared in our issue of September 26th'.
1943: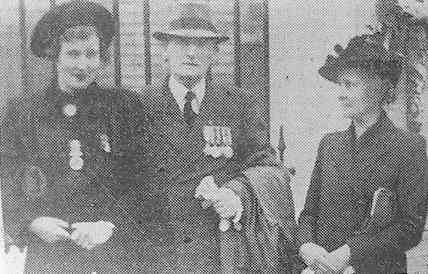 March 13th:
Photo: Mr. and Mrs. Watts and their daughter, of Arborfield, who recently received from H. M. the King the D.S.M. awarded to their son, R. J. Watts, T.G.M, of the Submarine "Urge".
March 20th: Arborfield: Legion Women's Section: The social and dance evening organised by the Women's Section of the Arborfield and Barkham branch of the British Legion realised £15. 14s. for the Red Cross Prisoners of War Fund.
March 20th: Prisoner of War: Mrs. Hayward, of "Ailsa Craig", School Road, has heard from the War Office that her husband, Sergeant W. Hayward, who was reported missing 13 months ago, is a prisoner of war in Borneo.
April 24th: Arborfield: Airman Honoured: The award of the Conspicuous Gallantry Medal (Flying) to Flight Sergeant Anthony Futcher Elcoate, D.F.M., No. 156 Squadron (front gunner-bomb-aimer) is announced. Flight-Sergeant Elcoate has taken part in numerous operational sorties, with great keenness. Recently he has trained himself to be a bomb aimer with excellent results, though his air crew category is that of a wireless operator / air gunner. His record of sorties included attacks on many very heavily defended targets, but whatever the hazards, this airman has invariably displayed courage and devotion to duty. His home is at Arborfield. He was an assistant storekeeper in civil life. He enlisted in 1938 and is now an air gunner.
May 15th: Arborfield: Pony and Dog Show: A pony and dog show organised by Mrs. J. H. Simonds and held at Newlands realised over £80 for the Berkshire Prisoners of War Fund. [List of winners].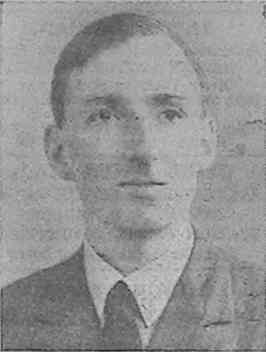 June 5th: Missing from Air Operations: Flying Officer E. G. Simonds: Flying Officer Edward Guy Simonds, eldest son of Major Maurice Simonds, director of Barclays Bank, Reading, is reported missing after air operations. Flying Officer Simonds was piloting a Blenheim bomber, and no trace of him or any of the crew has been found.
The missing airman, who is 29 years of age, is unmarried. He was educated at Wellington College, and at Worcester College, Oxford. On leaving Oxford about seven years ago, he became a member of the staff of Barclays Bank, Reading. About the same time he joined the Berkshire Yeomanry, was mobilised with them on the outbreak of war, and served with them until he transferred to the Royal Air Force in January last.
Photo: Flying Officer E. Simonds.
October 30th: Arborfield – Prisoners of War: The Prisoners of War (Red Cross) Fund benefited by £16. 16s. as a result of the sale of surplus produce at the recent Village Produce Association Show.
Repatriated Prisoners: Mr. and Mrs. A. Bush, of 15, Council Houses, Arborfield, have heard that their son, Private A. T. Bush, Royal Berks., has arrived at Liverpool on the S.S. Atlantis, after 3½ years' captivity in a German prison camp. [On Page 4 there was a long article on repatriated servicemen from Berkshire].
December 4th: Party for Repatriate: A 'welcome home' party, held at the village Hall last week to celebrate the repatriation of Private A. Bush, was organised by Mr. W. J. Verrall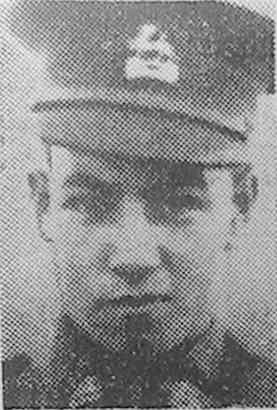 and a committee, consisting of Mesdames Inglis, Edwards, Kent and Mr. F. Stokes. After tea and community singing, an entertainment was presented, in which Messrs. F. Stokes, E. Parker, Master B. Terry, and Mesdames Kent and Middleton took part. Mr. W. J. Verrall expressed the pleasure of the company at meeting Pte. Bush once again, and Canon J. A. Anderson associated himself with these remarks.
Pte. Bush, in returning thanks, said that conditions in prisoner of war camps had improved immensely since the early days. They had to be grateful for the Red Cross parcels in relieving the monotony of the German rations, which too often consisted mainly of bread and potatoes. In the camps for wounded prisoners the day was fully occupied with a wide range of educational and sporting activities. During the last few months they had been in what was probably a propaganda camp. Conditions were excellent, and the amenities included walks in the surrounding country. Mr. W. A. Bush thanked the company for the honour they had done to his son.
1944:
May 13th: Arborfield: Mentioned in Dispatches: Among those mentioned in dispatches in the "London Gazette" on Tuesday for courage, endurance and devotion to duty while serving in one of H.M. ships in attacks in U-boats was Lieut. D. M. C. McLaughlan, D.S.C., R.N., who married in September 1942 to Miss Charity P. Simonds, a third officer in the W.R.N.S., youngest daughter of Mr. and Ms. Gerald P. Simonds, of Barton House, Arborfield Cross. He is the youngest son of Mr. and Mrs. R. J. McLaughlan, of Kenya and of Holland Park, London.
July 22nd: Arborfield: W.I. A talk on Occupational Handicrafts for Invalid Prisoners of War was given by Mrs. Giles, of Finchampstead, at the July meeting at Arborfield. She explained how this work helps the wounded, many of whom are bed-ridden, paralysed or have lost limbs, and she gave a practical demonstration of the kind of work produced by our prisoners from the materials sent out to them by the Red Cross. The members went home determined to turn out their rag-bags and lumber rooms for contributions in kind to help our prisoners.
1945:
September 29th: Arborfield: Repatriated Prisoner – Sergeant-Major W. Hayward.
December 8th: Arborfield: Prisoner Home - Sergeant-Major W. Hayward.
With acknowledgements to:
Surrey & Berkshire Media ('Times and Weekly News and 'Reading Standard');
Berkshire Media ('Reading Mercury' - Copyright photos; used by permission).
Back to 'Newspapers in Wartime' Main Page