Martin's Pool in Wokingham was a well-known local attraction for Arborfield folk, and its closure in the 1990s was much lamented. Many local children learned to swim there even after a swimming pool was installed on behalf of the Schools Association in the grounds of Arborfield, Newland and Barkham C.E. Junior School in the 1960s.

The 'Reading Mercury' of 19th May 1934 carried a photo of the just-completed Martin's Pool, with the following caption:
"A glimpse showing the striking design of the luxurious swimming pool in the garden of Alderman W. T. Martin, of Wokingham, which is to be opened to the public to-day (Saturday). Photo: Gilbert Adams."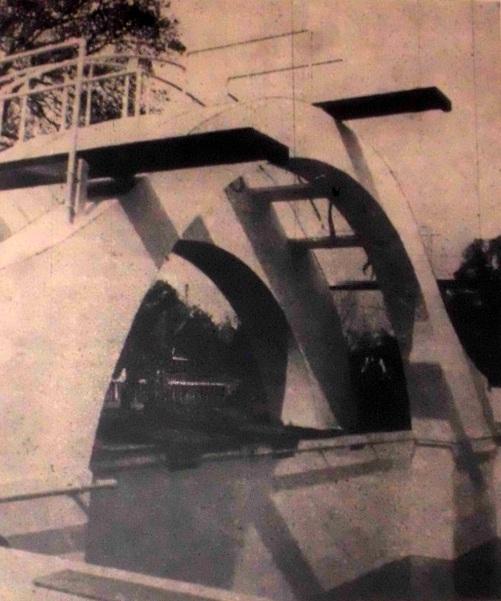 The next week on 26th May, the 'Reading Mercury' reported the opening ceremony as follows:
SWIMMING POOL AT WOKINGHAM.
Alderman Martin's Enterprise.
The new swimming pool which has been constructed at "Fernleigh", Wokingham, by Ald. W. T. Martin and his son, Mr. Cathrow Martin, was officially opened on Saturday, in the presence of a large company. These included the Mayor of Wokingham (the Rev. C. Mansfield), Lady Victoria Villiers, Ald. P. Sale, Mr. W. M. Colebrook, General Grant Wilkinson, Captain Evans, Mr. E. S. Whaley, Alderman A. F. Clark (Reading), Mr. L. L. Rogers, Mr. and Mrs. F. E. Chapman, Dr. Ward, Dr. Curl, Alderman M. Blake, the Rev. A. P. Carr, the Rev. G. Kenworthy, the Rev. T. W. Sergeant, Mrs. Pigott, Mr. A. T. Heelas, Mr. C. Goddard, Supt. Butler, Mr. Elliston Clifton, Mr. C. W. Marks , etc.
Alderman W. T. Martin, in introducing the Mayor, said for over thirty years he had been trying his utmost to get a swimming pool for the Borough of Wokingham. When he went on the council 34 years ago it was one of the planks in his election address that they should try to do something to teach the children to swim. They had gone on from year to year, but all their schemes had fallen through. So he had now endeavoured to find something off his own bat. He hoped they had succeeded in producing a bathing place acceptable to all. (Applause). They had taken a good deal of trouble to find out the very best. They had the purest water for them to bathe in, so that they could come there and feel absolutely safe. They had adopted one of the finest water purifiers they were able to find. The whole of the designs had been got out by his son. (Applause). They had found a very able man as contractor in Mr. Barrett, who had spared no efforts to carry out to the last letter everything so that they would have a swimming pool that would be hard to surpass. Through the construction of the pool they were able to find work for a large number of men, who had worked willingly. They had put their backs into the job, and no hours had been too long in order to get it finished by that day. He felt very proud of the whole of the workmen who had been engaged on the job. (Hear, hear).
1,100 TONS EXCAVATED.
Mr. F. J. Barrett, the contractor, expressed his thanks to Alderman Martin for giving such a swimming pool to Wokingham. He was very proud of the job, and he thought he had some reason to be. He also thanked Mr. Cathrow Martin for his designing of the pool, which had made his work look so much better, and for the very happy way in which they had been able to work together. He also desired to thank his own employees for the good work they had put into the job and the goodwill with which they had carried it out. They had worked long hours to get the job completed, so that at two o'clock that day he was able to say that the job was finished.
Actually 1,100 tons of soil had been excavated, and although they could not see it, this was still in the garden. This was due to Mr. Martin's excellent designing. The amount of shingle, sand and gravel used was 650 tons. Other quantities included 116 tons of cement and twelve tons of reinforcements. If the electrician's wire used was measured it would probably amount to the same mileage as that which they had covered in running round looking at various swimming pools in the country.
Mr. Barrett then presented Mr. Martin with an inscribed silver-mounted ebony walking stick on behalf of himself and the workmen. Mrs. Martin was handed a bouquet of carnations.
A Man of Enterprise.
The Mayor of Wokingham said the idea of a swimming pool had been a pet scheme of Alderman Martin's for many years, and as he could not get the council to spend the money to put the matter in hand, he had, with great enterprise, undertaken the work himself. (Applause). Alderman Martin was a man who had the best interests of the town of Wokingham at heart, and they now saw one of the results of that interest. They had a contractor in Mr. Barrett who had put his whole heart into the job, and it was due to his energy and good management that the pool was ready to be opened that day. The workmen, too, had carried out their job well. In designing such a pretty pool, Mr. Cathrow Martin had done excellent work. He hoped the whole town and, indeed, the neighbourhood, would take advantage of this provision for the health and welfare of the district. The best sign of their gratitude would be for them to make as much use of the swimming pool as they possibly could.
On behalf of Ald. Martin the Mayor then presented a packet of money to each of the workmen.
The opening ceremony was followed by a swimming display. The opening splash was given by lady members of the Reading Swimming Club, and this was followed by a diving display by Miss L. L. Cullum (champion of Hampshire) and Miss M. Cullum. Exhibitions of various strokes were given by Mr. S. Bell (Windsor Swimming Club), ex-champion of England, Miss J. Edminson (Reading Swimming Club), champion of Berks, and Miss L. L. Cullum. Polo matches were played between Reading ladies and Hounslow ladies, and Reading men and Windsor men. The display concluded with an aquatic exhibition by members of the Reading Swimming Club, and by the Four Lucratics of the Highgate Swimming Club.
The swimming pool is 110 feet long, 40 feet wide, and 9 feet deep at its greatest depth. The water at one end falls over a glass cascade, which is illuminated from underneath. It then runs down a series of stone steps into the pool. Underwater lighting has been provided for the pool itself, so that no lights will be apparent to the eyes. The swimming pool is constructed of concrete, with a snowcrete facing, which gives it a pure white appearance. At the end of the pool opposite to the steps is a Venetian bridge, with three diving boards, two six feet and one twelve feet in height. In addition to the main swimming pool, there is a circular pool, 2ft. 6 in. deep, for the children. This pool has its own illuminated cascade.
The pools are in charge of ex-Chief Petty Officer W. Gunnee, R.N. , who has been instructor to the Royal Navy at Portsmouth for twelve years. He is the holder of the bronze medallion and bar, and the sword of merit of the Royal Life Saving Society, of which he is a first-class instructor and examiner.
Photo caption: "The swimming pool in the garden of Alderman W. T. Martin of Wokingham, which was opened on Saturday."

A Resident's Memories of Martin's Pool.
As teenagers in the 1940s my friends and I visited this great outdoor swimming pool on many occasions. My friends were the swimmers; I just put my swim suit on just to get wet, did a bit of paddling around the edge, hanging on to the hand-rail in fear. I enjoyed watching people diving off the boards into the pool with a mighty splash and then surfacing; to me it was just magic.
Apart from the main pool there was a small paddling pool for the tiny children. Also, the lawns and gardens were a perfectly lovely place to relax in.
There was a drowning of a local lad from Anderson Crescent. He went swimming at lunch times from his place of work. I don't know what happened to cause his drowning. At this time in the 1950s I was in a sanatorium and didn't get any other information – only that he drowned.
I was saddened when Martin's closed.