The 'Times and Weekly News' of January 28th 1944 carried an upbeat article on an incident that occurred outside the village shop; a baby was uninjured, despite her pram being crushed following a collision between two Army lorries:

Army Lorry Crash at Arborfield

A Baby and Three Women Involved

When two army lorries were involved in a crash at Arborfield Cross on Friday last, three local women and a baby in a pram had a narrow escape. The two lorries were passing each other on the Reading Road by Chitty's Store, when the covering of one was torn off and thrown over to the grass verge where three women were standing, one of them, Mrs. Muir, of Walden Avenue, Arborfield, with her baby in its pram. The lorry hood struck all three, and the pram was completely smashed, but the baby was uninjured. All the women were rendered unconscious and ultimately received medical attention.

A 'Times and Weekly News' reporter interviewed Mrs. Sirrett, also of Walden Avenue, who was standing with Mrs. Muir and Mrs. Henn of Council Cottages, when the accident occurred. Mrs. Sirrett, who sustained slight facial injuries and a broken collar bone, was completely unaware of the impending accident until she was struck by the lorry's hood. "I don't remember a thing", she said. "I must have been wandering about the road and was taken in by Mrs. Allison [of Birch House - see below], who gave me a cup of tea. It was then that I realised that I couldn't use my arm, and later, when the doctor was called, he told me I had broken my collar bone".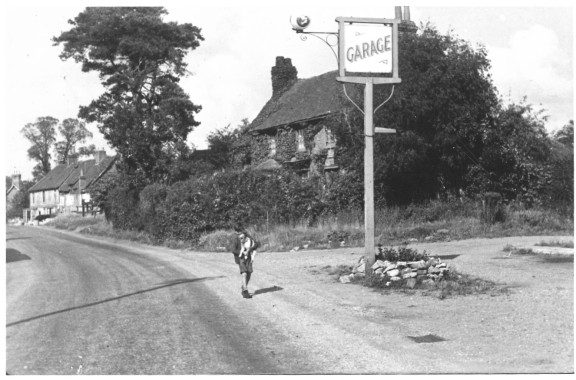 [Birch House and Bentley's Garage, in war-time]
Mrs. Muir, who sustained shock and slight concussion, received medical attention from an army ambulance unit, which was passing at the time.
Mrs. Henn, who also received cuts and was suffering concussion, was taken to hospital.

Sadly, events took a turn for the worse during the week, and on February 4th the newspaper announced:
Army Lorry Crash at Arborfield: Woman Dies
Mrs. Muir, who with her thirteen months old baby, was involved in an accident caused by two army lorries on January 21st, has died in Reading Hospital, presumably as a result of injuries sustained.
Mrs. Muir, who was 22 years of age, was treated for shock and slight concussion by an army ambulance unit. On the following day, however, she was sent to the Royal Berks Hospital, and she died on Tuesday.

The following week's newspaper reported:
Inquest on Mrs. Muir of Arborfield – Open Verdict Returned
Mr. J. L. Martin, the Coroner for Reading, conducted an inquest on Friday on Mrs. M. F. Muir of Walden Avenue Arborfield who died in the Royal Berks Hospital on February 1st following injuries sustained during an accident at Arborfleld on 21st January.
Evidence of identification was given by Mr. Muir who said that his wife was 22 years of age and her health was good. He last saw her after the accident when she was brought home. She was admitted to the Royal Berks Hospital on 27th January. Asked whether his wife remembered anything of the accident, Mr. Muir stated that she had remembered being on the footpath with her baby, and talking to two other women, but she did not remember being struck by anything.
Deceased did not show any signs of injury but complained of an acute headache and stiffness in the back. Dr. H. B. Jacobs, House Surgeon at the Royal Berks Hospital, stated that deceased died on February 1st. There were no signs of external injuries. He attributed cause of death to Haemorrhage which he presumed was caused by a heavy blow. It might, he further stated, have been caused as a result of a heavy fall. She was conscious when admitted to the hospital and remained in that condition until she died.
Mrs. M. A. A. Sirrett, of Walden Avenue, Arborfield, who was also involved in the accident, stated that she was talking to Mrs. Muir and another woman. Mrs. Muir was definitely standing on the footway on the Reading Road. She did not remember seeing any traffic. "I was bending over the pram to speak to the baby" continued Mrs. Sirrett "and the next thing I remembered was that I was in a neighbour's house. I sustained a broken collar bone".
Cpl. E. A. Brown, R.E.M.E. stated that about 3.15 p.m., on January 21st he was driving an Army truck on the Reading Road, Arborfield. He thought he saw women standing in the road in front. One was holding a bicycle which was completely in the road. "I pulled up to go round them when I saw another vehicle approaching. I thought there was sufficient room to pass, but the wooden side of my vehicle's body was ripped off. There was an injured woman on the roadside and I went to her assistance". Witness further stated that his speed was 25 m.p.h., and his truck was a left hand drive.
The driver of the other vehicle involved, Pte. Stockhill, stated that he was driving a G.M.C. Lorry and he first saw the oncoming lorry when it was 70 yards away. He saw the women half in the road and half on the footpath. He further stated that he was driving a left hand drive lorry for the first time.
The Coroner returned an open verdict.

In the run-up to D-Day in June 1944, Army lorry drivers were being trained in the use of American left-hand drive vehicles. It is difficult to judge how much clearance is needed when the driver is sitting on the near-side of the vehicle. Unfortunately, the stretch of the Eversley Road near Birch House is at its narrowest.

The combination

of two left-hand-drive lorries meeting on such a narrow stretch of Eversley Road, with one of the drivers being inexperienced in their operation, caused the lorries to glance against each other, ripping the roof from the northbound vehicle. A villager paid the price for driver training on the local roads.

Back to 'Newspapers in Wartime' Main Page