James Hellier Rowe lived for a few years at Targett's Farm, and at the 2003 History Society exhibition, the Society was given two photos of James and his family, taken in the years when they lived at Great Lea. Many thanks to James' descendants for this donation. Here is an obituary published in the 'Reading Mercury' on April 1st 1922:
DEATH OF MR J H ROWE – A Well-Known Farmer.
We regret to record the death of Mr James Hellier Rowe, which occurred at Targett's Farm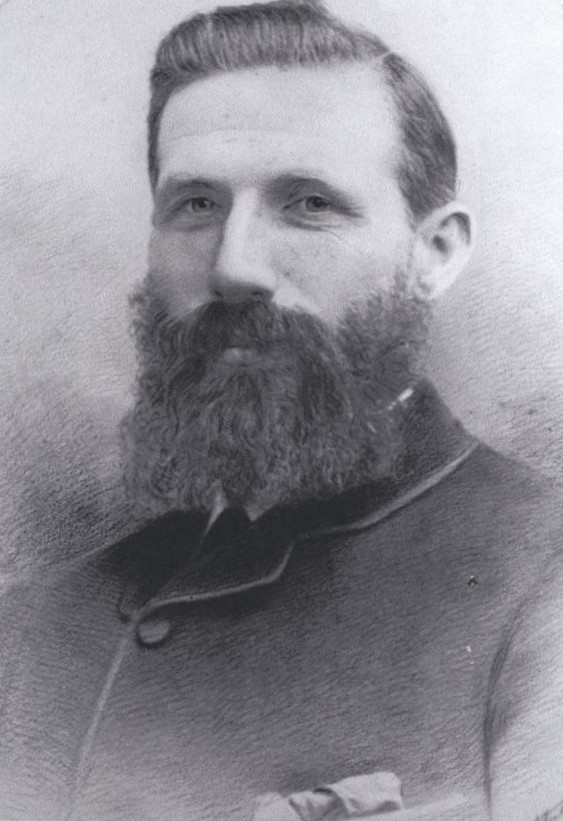 , Arborfield, on Saturday last, at the age of 73.
The deceased was a well-known farmer, and previous to going to Arborfield was at Great Lea Farm, Three-Mile-Cross for many years. He was a member of the Shinfield Parish Council, and was formerly one of the Guardians of the Wokingham Union.
A keen exhibitor of Shorthorns at the various shows, he was a promoter and secretary of the Shinfield Cottage Gardeners' Show, one of the founders and vice-president of the Reading Devon and Cornwall Association, and one of the stewards of the Wokingham and District Agricultural Show. He was a member of the Reading branch of the National Farmers' Union, and was a popular figure at the Reading market.
The funeral took place on Thursday, when the body was interred in the family grave at Shinfield. Many neighbouring farmers and others attended to pay a last tribute of respect to one who was much esteemed by all.
[There followed a long list of mourners].

'James Hillier Rowe' was listed in the 1920 Electoral register for the parish of Newland as resident at Targett's Farm. Back in 1913, it was in the hands of Frederick John Bosley.
The first mention of James Rowe, in the 1851 Census, was as an 8-month-old son of William and Ellen Rowe, of Ottery St. Mary in south-east Devon. He was the fourth child, and his 11-year-old his eldest brother John was already described as an 'Agricultural labourer', just like his father. The family had a lodger, 76-year-old widow Mary Hellier, who was described as a 'Pauper'. By 1861, James was a 'scholar', still living at West Hill, Ottery St. Mary. This time, Mary Hellier was listed as a 'visitor', aged '88'.
People's ages often get mis-quoted for various reasons, and by 1871, James had matured to '25'; he was by now a 'Farm Servant' at Rushett Farm, Malden, Surrey, with 28-year-old wife Ellen (originally from Sidmouth), and 11-month-old son John, born in Exeter. Perhaps James wanted to disguise the age difference between himself and his wife.
By 1881, James had progressed to being a 'Farm Bailiff', living at Great Lea Farm, and the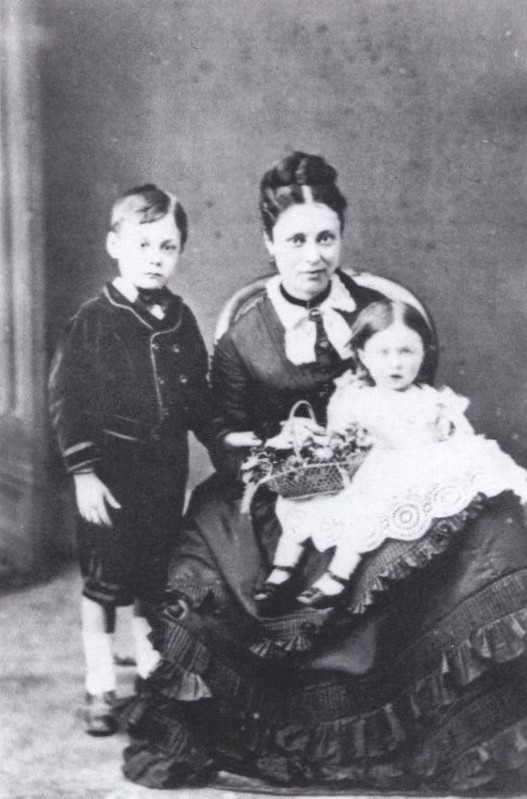 Berkshire air must have rejuvenated him; he was only 33. James and Emma had a 7-year-old daughter Minnie, born in Leatherhead, and a domestic servant. The photo of Emma, John and Minnie was probably taken around 1877.
The 1891 Census revealed that James was now a farmer in his own right, aged 42 while Minnie was 48. They continued to enjoy the help of a domestic servant.
By 1901, James' rejuvenation was complete; he was now only 50. Their daughter Minnie was now married, and had two young sons Herman Adams, aged 2 and Leonard Adams, aged 1, both born in Bracknell; there was no sign of Mr. Adams in this Census.
In the late 1800's there was a shortage of tenant farmers in Berkshire, and many came from Devon and Cornwall to make up the shortfall. Some of those who farmed in Arborfield were known to have come from Devon, and one day we shall know the full story of the Reading Devon and Cornwall Association. If you have any information, please contact us.

Following James' funeral, there were two Auction sales:
In the 'Reading Mercury' for May 13th and May 20th, Classified advertisements appeared for Targett's Farm and for its contents. Here is the wording from the edition of May 20th:
TARGETT'S FARM
SALES BY AUCTION
ON SATURDAY NEXT
Re: J. H. Rowe, Deceased.
ARBORFIELD, BERKS
5˝ miles Reading, 3˝ miles Wokingham
VACANT POSSESSION BY COMPLETION
An Attractive and Well-arranged
SMALL RESIDENTIAL FARM
known as
"TARGETT'S FARM",
Chiefly comprising Well-built HOUSE,
MODEL FARM BUILDINGS, Large Garden
and Orchard, 2 CLOSES of excellent PASTURE,
in all nearly 16˝ ACRES.
To be offered for Sale by Auction, by
Messrs. THIMBLEBY & SHORLAND
At the Upper Ship Hotel, Reading, on
SATURDAY NEXT, 27TH MAY 1922,
at 3 o'clock precisely.
Particulars and Conditions of Sale may be
obtained of the Solicitor, Arthur Kent, Esq.,
21a, Broad Street, Reading,
or of the Auctioneer,
32, Friar Street, Reading.
- - -
TARGETT'S FARM
ARBORFIELD, NEAR READING.
Messrs. THIMBLEBY & SHORLAND
Have been instructed by the Executors
of the late Mr. J. H. Rowe to sell by Auction,
on the Premises, on
TUESDAY, MAY 30TH, 1922,
the whole of the
LIVE STOCK, OUTDOOR EFFECTS and
SURPLUS FURNITURE, comprising
6 CATTLE, 9 PIGS, CHESTNUT COB MARE,
AGRICULTURAL IMPLEMENTS.
2 PONY TRAPS, HARNESS, GARDEN TOOLS,
POULTRY HOUSES, quantity of Surplus
HOUSEHOLD FURNITURE.

Sale to commence at 1 o'clock with the Furniture.
Catalogues may be obtained from the Auctioneers,
32, Friar Street, Reading.