Properties

Related sites:
Berkshire Record Office is currently digitising its Enclosure Award map collection.
The Enclosure Award for Windsor Forest dating from 1817 shows parcels of land in Arborfield, Newland, Bearwood, Langley Common and Farley Hill. If you click on the link above, and choose 'Windsor Forest', you will be shown a bewildering list of images. To save you time, here are the contents of the images that cover the area around Arborfield:
Windsor Forest (1817) - Ref: C54/9682 - Text

Image 12 - Langley Common, Coombes
Image 14 - Newland; Winnersh
Image 15 - Sindlesham, Winnersh, Farley Hill
Image 16 - Swallowfield, Farley Hill
Here's a sample of the text: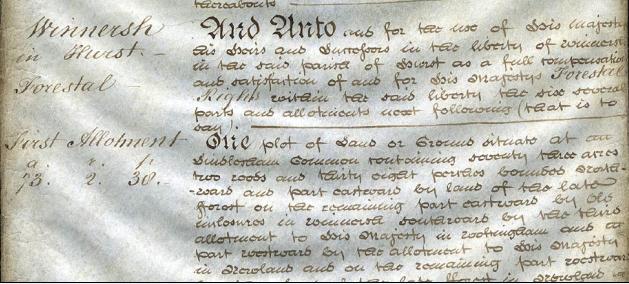 Acknowledgement for this image - Berkshire Record Office.

Windsor Forest (1817) - Ref: MPA1/60 - Maps

Image 9 - Langley Common, Coombs (sic) and The Heath
Image 10 - Newland, land near Bearwood
Image 11 - Whitehall Farm and Manor Green (Revd. Mr Hodgkinson - who was Rector of Arborfield)
Image 14 - Sinsham Common (sic) and Bare Wood (sic)
Image 15 - Farley Hill, showing Castle House, brick fields and gravel pits

The text and map for Farley Hill suggest that bricks were transported from Farley Hill through Arborfield via the Swallowfield Road past "The Bull". In Farley Hill, there's still a lane called Kiln Hill, a hint of so much small-scale industry that was carried out in the heart of the countryside.